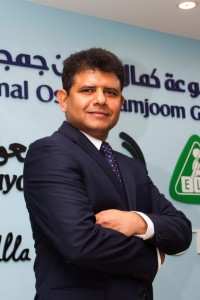 Though he derives his inspiration from his family with 11 doctors so far, medicine wasn't on Thameem Rizvon's prescription. The Tiruchirappalli, India-born man followed the footsteps of his only tech-minded brother, and today directs the IT team for one of the largest retail groups in the Middle East.
Thameem knows a thing or two about family values — he's the youngest of seven children. He was born and raised in his native India behind three sisters, all doctors, and three brothers.
Thameem says that his inspiration has always come from his high achieving family. His father, a journalist, and ever doting mother, set standards high in education and career advancement for Thameem and his siblings, and it's fair to say that they were all prepared to rise to the challenge. What's more, Thameem's wife is also a doctor now at the emergency unit of Al Baraha Hospital, Dubai. According to Thameem, she deals with one third of Dubai's medial emergency cases."She's busier than I am a lot of the time, I don't know how she does it," he says.
Up until 1994, Thameem was schooled in India. He travelled to Bangalore to study engineering in computer science, and after graduating decided to pursue opportunities in the IT field. He then took up a job in the IT education sector in a company which offered IT education and consultancy services.
After a couple of years in this role, Thameem moved into the consulting part of IT; business and resource consulting."My expertise always lied in business development, and the consulting company offered me a fairly good opportunity. The company had offices in India, Singapore, and the U.S., but they outsourced into Saudi Arabia. We then took a look at Saudi and saw some opportunity, so the company asked me to head out there and manage the start-up of an office."
Thameem spent an initial six months in Saudi Arabia setting up operations for the new office and helping the company move into the IT sphere, before heading back to India. However, very little time passed before he was back again. In 1999, he returned, spending more than two years there before changing roles and finally joining Kamal Osman Jamjoom (KOJ) Group in April 2002.
"They had approached me some time before, back when they were a customer of mine, but I couldn't accept. I had to stay with my current post in Saudi and ensure that operations got up and running to a point where it was sustainable before moving on."
Thameem began life at KOJ as IT manager back when the company was close to 90-stores strong. The retail group now boasts 700 stores worldwide."It was an interesting company to move into — it was on the verge of growth. That was exciting. The company had a vision and a mandate for growth. Few companies have the vision, from within Saudi, to be international," he says."From day one, they believed in people — good people come first. I was inspired by this; inspired to work for them as they grew."
And of course, as they grew, the IT opportunities grew, and after three years, Thameem stepped up to become the group IT manager, and stayed in this position before being promoted to IT director of the group in 2012.
However, it was in back in 2003, prior to taking his promotions, that Thameem decided to make the move to Dubai. "My father was proud that I was out making money. Though he would have preferred me to follow my three brothers, who are U.S. citizens, he is happy with what I am doing and urges me to reach even greater heights of success. My brother was my inspiration. He studied engineering science in one of the premium Indian institutions in the 80s when computers were brand new," he recalls."Nobody would have even considered a career in computing back then. I considered being a doctor, or a pilot, but I quickly realised I wasn't a book worm. I once borrowed my sister's medical book, but used it as a pillow. I watched her read it and it just wasn't for me. I liked toys — breaking them and fixing them."
Thameem describes himself as having always been more of a technical person, perhaps demonstrating his wisdom in his choice of career. "I'm passionate about IT — specifically about what it can do for business. This is why I set up the CIO Arabia group — a forum which allows CIOs to come together and learn from each other, totally free. This one and the other one — "Middle East Oracle User Group" — are my babies."
Outside of this, Thameem says he has little time with his family, and wishes he could divide his attention a little better. However, he says that spending time with his wife and two sons is his favourite thing. "Otherwise I love my toys," he says. "Driving around in my Porsche, listening to music from the Bose system."Thameem says that he would love to go driving with some of his friends — part of a driving group — but feels motorcycles are a little too much for him.