Alaa Bawab, General Manager – ISG, Middle East & Africa at Lenovo explains to CNME Editor Mark Forker how the absence of legacy software from its datacenter portfolio has enabled them to become a key player in that space across the Middle East & Africa, and reiterated the company's commitment to the channel ecosystem.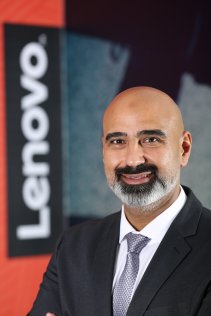 Alaa Bawab is a veteran of the IT industry and during a decorated career that has spanned 25 years – he has held senior positions at IT behemoths such as Huawei, Cisco and HPE.
Bawab was appointed General Manager of Lenovo's Infrastructure Solutions Group in October 2021, and in a candid interview with CNME he expressed his excitement to be tasked with the responsibility of spearheading Lenovo's datacenter portfolio in the Middle East & Africa.
His optimism is well-founded as Lenovo have firmly established themselves as a market leader in the datacenter space as the demand for cloud services continues to grow. Their recent Q3 financial results serves as further evidence of the growth and dominance they are enjoying across the MEA region.
"In Q3 we enjoyed our highest level of growth since 2019 – and I think that is a great reflection, not only on the transformation and change the company has undertaken, but also on the potential and opportunities that exists for us in the future in terms of the datacenter vertical. We have also enjoyed double-digit growth in every single technology that we offer within ISG. In addition to this, in the last quarter we also achieved our highest ever growth for our storage solutions business unit within ISG," said Bawab.
Industry analysts are projecting that the datacenter market across the Middle East & Africa will grow by 10.4% from a CAGR perspective over the next 5 years, and the two biggest countries that will contribute to that growth are unsurprisingly the UAE and KSA.
Bawab singled out a range of key factors that he believes to be the main drivers that are fueling the exponential growth in the datacenter market.
"It has become very evident that there has been a very aggressive and advanced deployment of 5G across the board – and I believe 5G connectivity to be an important pillar that is driving datacenter requirements. There has also been a rapid digitalisation in automation across all key industry verticals globally, whilst another key growth factor is IoT. In 2020, 75% of companies deployed IoT on their applications," said Bawab.
The Lenovo executive also pointed to the high internet penetration rates in KSA, which reached a staggering 95% in 2020, as another key driver in datacenter growth.
Bawab believes Lenovo have been so successful in acquiring huge market share in the datacenter space because they do not have legacy software like some of their market rivals.
"The demand for cloud services across all traditional industry verticals has skyrocketed. The financial services, banking, IT, and telecommunications sectors for example are all going into cloud services and that has generated exponential growth in the datacenter space. However, I believe Lenovo has become a market leader in this space, primarily because we are so focused on datacenter solutions. We are the only true 100% agnostic infrastructure datacenter provider, we do not have any legacy software that we want to position directly, or indirectly in our datacenter sale unlike our competition, and that gives us a huge market advantage," said Bawab.
In terms of transformation Lenovo has undergone a seismic one of its own, the company is the world's No.1 PC provider, so therefore is rather inevitably best known for its laptops and devices. However, it has completely restructured its business model to become a major powerbroker in the datacenter ecosystem – and is attempting to move away from being viewed by many as a device-only provider by become the No.1 infrastructure solutions provider on the planet.
"Lenovo is not only a major player in the digital transformation journeys of our customers and partners, but we are also undergoing and experiencing an internal transformation in the way we go to market. We are moving away from the perception that we are a device-only company provider, to become an infrastructure solutions service provider that can capitalise on the ability to be agnostic, and leverage the partnerships we have cultivated and nurtured with the major Tier 1 application and software players over the years These partnerships ultimately allows us to bring products to customers really need, and not what we want to sell them, and that is a big, big difference," said Bawab.
Bawab is now in his 26th year working in the IT industry across the Middle East, so there is nobody better placed to articulate the importance of building a channel ecosystem which is designed to give your company the best possible go-to market path.
"I am a strong believer in the channel, and Lenovo is fully committed to a channel-first vision and strategy. We want to go through the channel and capitalise on the channel, but we also provide huge value to the channel across all fronts. It is very important to see the alignment, because we don't just want to use the channel to go to market, we understand it's a collaborative relationship and is a win-win situation for both parties, because as the old saying goes numbers never lie. When you see the growth that a vendor like Lenovo is having from an end-user device and datacenter perspective then it is a no-brainer for a system integrator, or channel partner to work with an agnostic company like Lenovo, it's mutually beneficial for all parties," said Bawab.
As aforementioned above Lenovo is the world's No.1 PC provider and its chairman Yang Yuanqing has expressed his desire to be the No.1 infrastructure solutions provider on the planet, but how do Lenovo plan on balancing both market segments, can both co-exist together, and again what is their channel strategy for this.
Bawab believes their Lenovo 360 framework will help them deliver on all fronts.
"We have a core global framework that we are deploying and will be officially launched at the beginning of our fiscal year, and it is known as the Lenovo 360 framework. The Lenovo 360 framework is essentially getting the end-to-end value through our channel network. The channel will benefit by offering the End-to-End value proposition from End Point (Intelligent Devices Group) – Edge to Cloud (Infrastructure Solutions Group) – Advanced Services & Solutions (Solutions & Services Group) delivering secure and comprehensive solutions to customers. This framework really empowers the channel, and we give them access to our entire end-to-end portfolio, and it also enables them to tap into managed services, such as the burgeoning everything-as-a-service model. We believe by empowering the channel only serves to reaffirm our commitment to the channel – and demonstrates very clearly that we are a channel-first vendor," said Bawab.