Veronica Martin caught up with Hani Nofal, Vice President at GBM, during GISEC 2023 to discuss the challenges CIOs are facing with digital transformation projects, the most common barriers that hinder the path to transformation and the role security plays in digitalization.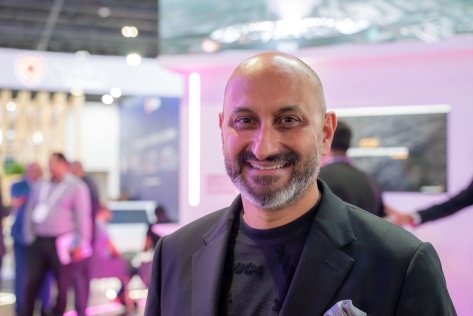 What do you hear from your customers are the opportunities presented by digital transformation in the region?
What we are hearing from our clients is that our region is transforming quickly to become a digital hub globally. We have seen a lot of momentum in the last couple of years because the pandemic was negative in many ways, but it gave us a positive momentum to make a difference because of our digital infrastructure.
At the same time, the geopolitical situation happening in Europe and the oil and gas situation here has actually driven our economic growth faster than the rest of the world. With that, we started to realize that we are sitting more and more on very critical digital infrastructure that we need to protect and continue to invest in if we want to really use it as a differentiator moving forward.
The second thing we hear and we talk to our clients about is that they are tired from keep on throwing money on the security problem. This is a very complex industry and our clients are saying, "help us to make sense out of this investment, because at the end of the day, my goal is not to invest. My goal is to reach my ultimate destination, which is to be cyber resilient." That's why our entire direction now is to help them accomplish this.
What are some of the challenges CIOs are facing with formulating digital transformation projects?
Some of the challenges are how we are going to ensure that all digital assets are secured. The discussions we are having now and with the launch of GBM Shield, which is our new platform that we announced few months ago, are "we're going to be focused on the outcome, but not how we're going to reach there". At the end of the day, you go to your house and you expect to have your water, power, electricity and gas switched on, and that's what I want to give you. I want to give you the outcome and I will worry about the complexity in the background.
Based on your experience, what are the most common barriers that hinder the path to transformation?
There are a couple of challenges. The first is, unless you are an organization with deep pockets, most clients today in the region, cannot afford to have a cybersecurity program because of complexity, not able to make sense of technologies etc. If you combine that with the skills & manpower's shortage we have globally in the security industry and in the region, this could be fatal because I don't seem to be able to find the right people, affordable talents and skills to manage.
Additionally, many traditional service providers in the security domain give a false sense of security. They try to convince me that they are meeting their SLAs by saying, "I have discovered that you have a security issue here. Here is a ticket and you have to go and fix it yourself, but, contractually, I have met my service level agreement". This doesn't mean they actually achieved the required results.
That's why the focus today is to tackle these two big challenges, from skills to cost, and to rely on the technology itself to do the job. You hear a lot about machine learning and how you're going to actually transform with artificial intelligence and now it's easier for many to understand artificial intelligence after ChatGPT.
We are trying to get the machine to actually sort of remedy itself by itself.  The machine speed will help us with cost, speed, the reduction of the skills shortage and to focus on what really matters, which is the very few incidents that will allow us to take human decisions as and if required.
How big a role does security play in the digital transformation process?
Very big role. Our region, if they want to make a difference with their digital infrastructure and being a digital hub worldwide, they cannot do that without making sure they are secure and giving us a sense of digital security.
Everything now is turning digital, from healthcare to education to how you deal with banks, organizations etc. There won't be a future for any organizations, governments and countries that don't put digitalization and security in the heart of their vision. Security has become one of the main priorities for the future for all the countries around this region and we have seen this during GISEC, as everyone wants to be taken seriously and we have our role to play as private sector as well to partner with them because we need to do this together.
What is the culture needed for successful security and digital transformation projects?
We need a lot of collaboration from organizations as they should realize they need to be open-minded and partner together. We also need to be open, transparent and learn from each other. I know we are different organizations trying to compete for doing business. However, we need to learn from each other's mistakes and how to do things better collectively.
You see a lot of regulations in Europe, for instance, around identity, data protection, GDPR, how and what your rights are as an organization or as an individual regarding personal data. Do I have the right to be able to delete my account and ensure that all my personal data is deleted on it? So, we all have to collaborate and work together to push forward and ensure that we are secure.