The Dubai Health Authority (DHA) has unveiled a first-of-its-kind smart pharmacy in the Middle East, with a robot for dispensing and prescribing medication in Dubai Hospital.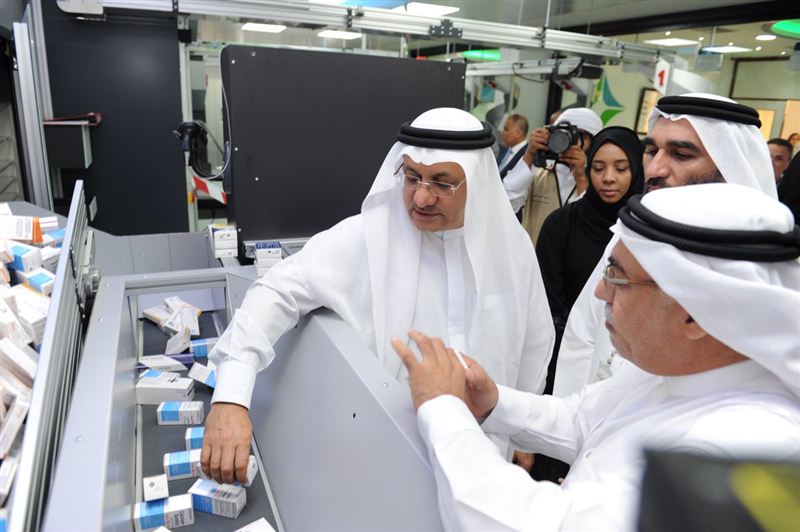 The DHA launched a smart pharmacy at Rashid Hospital last January, but this branch is the first to feature a robot dispenser.
The robot can store up to 35,000 medicines and dispenses around 12 prescriptions in less than one minute. The robot distributes the prescribed medication with a click of a bottom based on a barcode, minimising any human error.
His Excellency Humaid Al Qatami, chairman of the Board and Director General of the DHA, announced that the authority will be adopting the robot in all DHA hospitals
Al Qatami added that the robot is one of the latest smart technologies adopted by the authority to meet the 2016/2021 strategy, which aims to achieve a happy and healthy society.
The smart pharmacy was inaugurated in the presence of Dr Ali Al Sayed, the director of the Pharmaceutical Services Department of DHA, Dr Abdul Rahman Al Jasmi, CEO of Dubai Hospital and Dr Khaldoon Walid Nabhan, acting director of Finance and Administrative affairs at Dubai Hospital.
Dr Al Sayed added that the robot dispensing process will be paper free as the robot will store the prescription as soon as the doctor documents it electronically.
He added that depending on the robot to dispense the medication, would allow the pharmacist to focus on giving the customers the correct instruction on how to take the medication.
The DHA was the first to implement the barcode smart system in the UAE last April, which aims to ensure the safety of patients by giving each medicine a barcode, hence reducing the chances of any mistakes when dispensing medication.
Al Qutami also said that the authority has adopted a smart system that monitors the cold chain of pharmaceuticals to preserve the quality and safety of medication.
Monitoring of cold chain especially when it comes to medication is considered one of the most important global issues in healthcare as it directly affects the quality, safety and the effectiveness of the medication.
The international-standard smart system that monitors and tracks the temperatures of medication through the installation of smart devices and tablets that can be controlled and tracked electronically. These systems aim to guarantee a continuous cold chain, which will maintain the quality and safety of pharmaceutical medication.