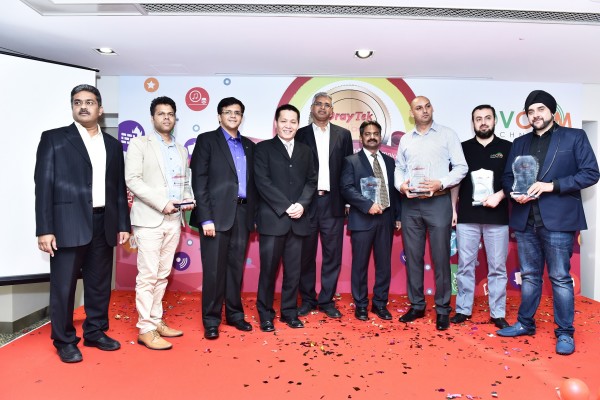 Taiwan-based networking solutions provider DrayTek partnered with their exclusive distributors for the region, DVCOM Technology to host the Channel Champs Campaign for the third consecutive year.
The campaign began on 1st February and ended on 30th March 2016 with an award ceremony. During the period, the local SI/Resellers and Retailors are encouraged to endeavour themselves to work out the most sales output to win the award of being Channel Champion.
As part of the campaign, a training workshop was also held on the 29th March at the DVCOM offices.  "During the workshop, DrayTek's latest product models were showcased and demonstrated with focus on DrayTek's Latest Embedded LTE Router: Vigor2860L/2925L series; 802.11ac 1600Mbps Dual Band AP: VigorAP902, ADSL2/2+ IAD, Vigor2832; Multi WAN Router with IPPBX feature: VigorBX2000/2000ac; Quad WAN VPN/Firewall IAD for Mid-Size business: Vigor3220 series.  DrayTek has released Android-based SmartVPN app for those who would like to set up SSL VPN connection with the VPN server working at the main office and also the related VPN client utility compatible with iPhone iOS9; other new features include Band Steering, Social Wi-Fi, Airtime Fairness and Improved Device Management." said Joseph Tsai, Sr. Regional Manager, DrayTek.
DrayTek's Channel Champs 2016 awards honoured the following companies – Best Retail Award – Al Munir Computers; Best SI Partner Award –  Xavier; Best Case Study Award – Action International; Best ISP Solution Provider – DVCOM Technology Kuwait ; and DrayTek Channel Champ Award – WiFi Guys
"Last year witnessed over 100 companies participating for the Channel Champs and the response this year has been overwhelming. The training workshop coupled with the Award programme is an ideal platform for the SIs/Resellers to gather knowledge of DrayTek products and also motivates increased channel sales, said Renjan George, Managing Director, DVCOM Technology.