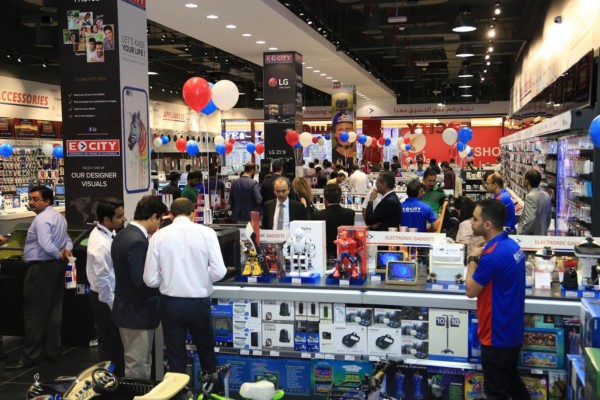 ECity, a part of the ALBATHA Group of Sharjah, has recently opened its ninth store in the UAE.
The newly opened outlet, which is located at Dalma Mall in Abu Dhabi, was inaugurated in the presence of ECity senior officials and representatives from various partners. The store features the company's rebranding initiative, including the new logo and identity, reflecting its unique concept of utilising technology, fixtures, layouts and displays that have never been used in today's industry and the markets. The company's tagline, 'Experience the future of electronics,' throws the spotlight on today's leading innovative brands and the products and services they offer, some of which have never been experienced or witnessed in the UAE. The technology and fixtures used are one of a kind, utilizing European. In fact, every inch of the store has been designed to give customer's the benefit of convenience and a unique experience.
Jaouad Dakir, CEO, ECity, is at the helm of the company's move to strengthen its position in the consumer electronics retail segment. "We are proud of the opening of this new store, which features our new redesigned logo and identity," said Dakir. "Our rebranding initiatives reflect our one-of-a-kind specialty consumer electronic concept and ably complements our expansion strategy. All of our stores will be redesigned with a strategic layout that will improve the overall customer experience–presenting them with a smart and friendly shopping environment that focuses heavily on convenience, online shopping and in-store and home repair services."
ECity recently announced its rebranding efforts, which is focused on consolidating its position as the region's first 'Technology Convenience Store.' The company's new store and portfolio has been designed to uplift the brand's appeal by featuring vibrant new products, a new signage and an improved store plan crafted specifically to improve the customers' shopping experience. ECity stores will be throwing the spotlight on tablets and smartphones, which have been seeing strong sales growth. However, the company will also be featuring other smart gadgets and accessories along with Small and Major Domestic Appliances, Personal Care, Audio Video, Gaming and Toys, Drones, Accessories, 3D printing, notebook, wearables and camera.
"Consumers today have demonstrated an increased preference for all things compact and multifunctional–a trend that has set the tone of experiencing the future of electronics and what it can offer. The trend also reflects our continued investment and commitment in the retail industry, as well as our dedication to provide only the best quality experience for our customers," concluded Dakir.