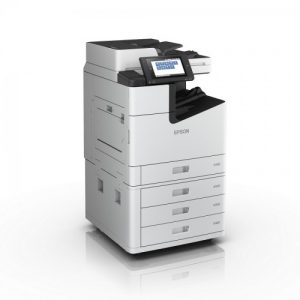 Epson has launched its next generation of eco-efficient business inkjet printers, the WorkForce Enterprise, at a launch event in Dubai, which was attended by its business partners from the region. This ultra fast 100ipm departmental colour office A3 printer delivers the ecological benefits that only inkjet technology can offer, providing a low power solution with fewer supplies at the price of a departmental laser copier. The WorkForce Enterprise WF-C20590 is joined by a 75ipm version, the WF-C17590, both designed to meet the needs of departmental office printing in corporates and SMEs, especially those that have peaks of high-volume productivity.
To further enhance the printer's quality, Epson has incorporated a number of technology innovations, including a self-repairing printhead to eliminate banding and an electrostatic transport belt to maintain quality at high speed. The new technology delivers a step-change in environmental performance, reducing power usage by up to a staggering 96 percent compared to the same speed laser printer without needing a specialist power supply.
Jason Whiley, director of sales, Epson Middle East, said, "The WorkForce Enterprise cuts the environmental impact of print by providing a low power solution, with fewer supplies, while delivering remarkably fast print speeds at high quality. Having far fewer parts than equivalent laser-based MFDs, this series promises to deliver higher reliability and significantly increase printer uptime.
"We knew we had something special as soon as we saw the WorkForce Enterprise in the lab, but it has been the reactions from resellers in many countries that has really confirmed the ground-breaking nature of this new range. We took this model on the road to cities across the continent, including Prague, Lille, Athens, Helsinki and many more, to gather vital feedback which has gone into creating the best Epson product possible."