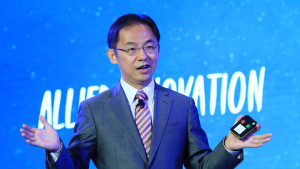 At CeBIT 2016, Huawei today signed a memorandum of understanding with robot technology firm KUKA to develop smart manufacturing solutions for industrial markets in Europe and China.
Under the new agreement, Huawei and KUKA will collaborate in the areas of cloud computing, Big Data, mobile technology, and industrial robots to help manufacturing customers embrace smart manufacturing.
Smart manufacturing is evolving rapidly fuelled by intelligent, interconnected systems and this is disrupting the way manufacturing businesses use robots throughout their production systems.
Research and development will be central to the new partnership. Key areas of R&D include the use of small cell Internet of Things (IoT), wireless and 5G network, as well as Big Data solutions in manufacturing and factory environments.
The deployment of Huawei's infrastructure-as-a-service solutions will be used to develop cloud-hosted smart manufacturing services. In addition, KUKA and Huawei will set up a joint robot programming team to explore the use of imitative deep learning in advanced manufacturing environments.
"The manufacturing industry is undergoing profound transformation, and robots will be critical in revolutionising factories and driving new opportunities," said Ryan Ding, Executive Director and President of Products & Solutions, Huawei. "KUKA plays a central role in promoting and developing smart manufacturing solutions in Germany and across the world. We're confident that our strategic partnership with KUKA will enable Huawei to lead the way in helping global manufacturing enterprises transform their factories and gain significant competitive advantages from realising smart manufacturing."
Germany's 'Industry 4.0' initiative and 'Made in China 2025' aim to accelerate the quality and efficiency of each country's respective manufacturing sectors through the application of IoT-enabled industrial solutions.
The signing ceremony was attended by Ding, Huawei's Enterprise Business Group President Yan Lida, Peter Mohnen, Member of the Executive Board for Finance and Controlling (CFO), KUKA AG and Stefan Lampa, Chairman of the Board of Management (CEO) of KUKA Roboter GmbH.
We welcome our partnership with Huawei, a leading global information and communications technology solutions provider," Mohnen said. "Digitalisation and the implementation of Industrie 4.0 will bring fundamental changes to industrial production and necessitate new products, solutions and concepts. As a global innovation leader of Industrie 4.0, KUKA is pushing ahead with this development and many sectors of the Chinese economy offer great potential. The electronic industry is challenged with an increasing number of new products, an accelerating pace of development and shorter product life cycles. Here we see a high potential for robot-based solutions."