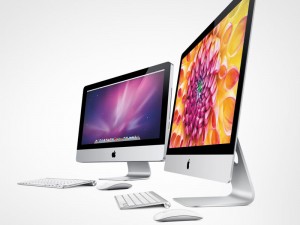 Apple CEO Tim Cook may have warned that there would be a significant shortage of new iMacs in October, but the shortage has continued into the New Year. The 21.5-inch model is reportedly facing shipping delays of seven to 10 days, while the 27-inch model is estimated to be seeing delays of up to four weeks.
A new report from DigiTimes suggest that these shipment delays are due to mass production issues that are preventing Apple from being able to make its 27-inch iMacs quickly enough.
According to the report, industry sources have said that the mass production issues are being faced by Apple's panel supplier, LG Display, which is believed to be experiencing problems with the lamination process when making panels for the new iMac.
These issues are thought to have slowed down shipments of the 27-inch iMac to 100,000 units a month, say DigiTimes' sources.
The 21.5-inch model is experiencing less trouble, with LG Display managing to secure strong yields of the smaller iMac at around 300,000 to 400,000 units of the computer shipping per month, DigiTimes reports.
The 27-inch iMac's shipment delays are expected to ease in February, when sources say LG Display will begin harnessing better yields for its panels.
The lamination process for the new iMac's screen was first identified as a challenge in August by KGI Securities analyst Ming-Chi Kuo, who noted that the new screen lamination process for the redesigned iMac is more difficult with the 27-inch model, and suggested that, as a result, it would launch six to eight weeks after the 21.5-inch option. This prediction later proved to be true.
This week, Apple introduced the Fusion Drive upgrade for new entry-level 21.5-inch iMac orders, an option previously only available on the high-end and 27-inch iMacs.