CNME editor Mark Forker spoke to Dr. Chris Cooper, Director and General Manager at Lenovo DCG, to discuss the disruption caused by COVID-19 – and how its unique ThinkSystem SE350 is delivering AI applications at the edge.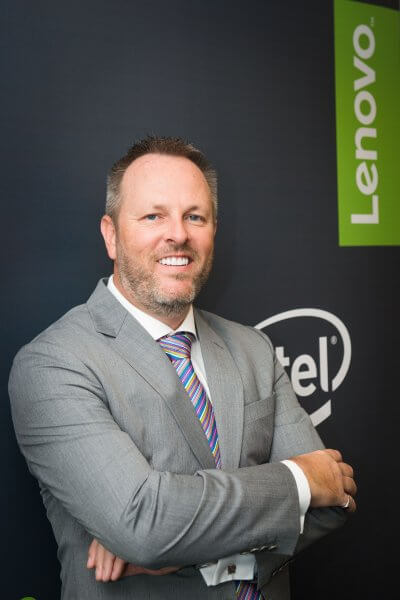 COVID-19 has disrupted the global economy and forced people to work remotely in a bid to curb the spread of the virus. How has Lenovo been affected by ongoing pandemic, and what challenges have you faced in terms of exclusively transitioning from a traditional work environment to a virtual workplace?
Our immediate priorities remain the welfare and health of our employees all over the world, continuity of manufacturing and rebuilding capacity, and assisting those working to contain the outbreak in communities around the world.
The coronavirus situation is a global industry-wide challenge and given its dynamic and fast-changing nature it would be inappropriate to make any long-term forecasts about the future. However, we are leveraging the full strength of our global manufacturing and distribution networks to minimise any potential impact on customers.
We're confident in everything we're doing as a company to ramp up production and serve our customers during this time.
Lenovo's ThinkSystem SE350 addresses issues around security, latency and bandwidth. These issues have come to prominence amidst COVID-19. Can you outline to us why businesses should adopt the software in order to maintain business continuity?
Lenovo's strategy aims to empower and facilitate 'Intelligent Transformation' across various sectors and industries across the region. The first purpose-built edge server, the ThinkSystem SE350 is a prime example that comes to mind.
Designed to operate outside data centers and in locations close to where data is generated, the ThinkSystem SE350 delivers an open platform to support software that address issues surrounding security, latency, bandwidth and downtime with regards to smart city applications. This platform is designed to deliver AI applications at the Edge, something few can do at this time.
The global Data Center market is set to grow exponentially in the Middle East. The decision by Microsoft to establish data centers in the UAE has resolved the issue of data sovereignty for many businesses, is this one of the main reasons for the spike in growth?
Similar to Europe's introduction of General Data Protection Regulation (GDRP) in 2008, the UAE is implementing its own data protection law which falls under the country's National Cybersecurity plan.
With global cloud providers like Microsoft establishing their own hyperscale cloud offerings in the UAE, we will see an increasing number of companies adopting cloud solutions that comply with strict data residency laws.
In line with this Lenovo has recently certified it's Edge Computing platform with Microsoft Azure to deliver the Azure suite at the Edge. There is an ever-increasing set of use cases that are demanding for such technologies today and likely to grow significantly.
It's almost four years since you were appointed as Data Center Group General Manager, Lenovo Middle East, Turkey & Africa. Can you outline your journey, and document the success and growth the company has enjoyed during that timeframe?
Over the past years, Lenovo has been on a successful journey based on innovation. In 2017, we unveiled the new ThinkSystem and ThinkAgile families in what the company called its largest server launch.
A year later we emphasised our offering to focus on storage, unveiling our partnership with NetApp and launching Lenovo ThinkSystem DE and DM Series. The company later diversified its offerings to focus on edge to cloud solutions by introducing the ThinkSystem ES350, an entreprise class edge server a little larger than a notebook that can be stacked on a shelf or put on a wall.
Today, as hyperscalers such as Microsoft setup shop in the UAE, Lenovo diversified its offerings even more by introducing the ThinkAgile MX1021 which harnesses the power of Microsoft Azure Stack HCI at the edge to reduce latency and analyze data where it's produced.
Lastly, our software and services group as well as our world Leading HPC business is also on the rise. This is reflected in Lenovo's commitment to diversify its offerings focusing on delivering the best-in-class solutions to its clients.
2020 is off to a rocky start for many businesses in terms of their economic prospects, but what is your main objectives for the remainder of 2020 at Lenovo, and what is your independent outlook on the IT sector as a whole?
Lenovo has business continuity plans, teams and processes that focus on both protecting employees and maintaining service to customers amidst the widest range of unanticipated contingencies. We are leveraging the full strength of our global manufacturing and distribution networks to minimise any potential impact on customers.
With regards to the general outlook of the IT sector, according to a recent study from the Dubai Chamber of Commerce and Industry, IT spending in the UAE was forecasted to exceed AED 23 billion by end of 2019. Furthermore, IT services sales reached a record AED 11.4 billion in 2018 with a recorded double-digit year-over-year growth rate of 10.2 per cent.
As a result, the UAE is making great strides towards achieving its various development objectives as outlined in the likes of the Dubai Plan 2021, the 10X Initiative and UAE Centennial 2071.
We trust in the governmental efforts and leadership of the country and we firmly believe in the industry and that it will bounce back after Covid-19 situation subsides.