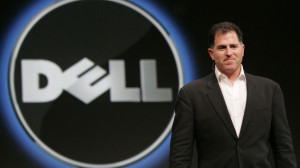 Michael Dell has raised his offer to take Dell private by $0.10 per share, to about $24.7 billion, after the company was forced to delay a vote because stockholders seemed inclined to reject the bid.
The new bid of $13.75 per share from Michael Dell and Silver Lake Partners prompted the company to adjourn the special stockholder meeting for a second time while a special committee of the board of directors evaluates the new bid. The meeting will be reconvened at 9am Central Time on August 2, the special committee said Wednesday.
However, the new bid comes with strings attached: The company must modify the voting requirements for its acceptance, Denali Holding, the acquisition vehicle Michael Dell and Silver Lake are using for their bid, wrote in a letter to the board's special committee.
Denali wants to modify the merger agreement to require the approval of "a majority of the outstanding shares held by the unaffiliated stockholders that are present in person or by proxy and voting for or against approval of the merger agreement at the stockholder meeting."
The existing merger agreement counts shares not voted, or abstentions, as votes against the proposal
The bidders gave Dell until 6pm Eastern Time Wednesday to accept the proposal.
Stockholders were due to vote on Michael Dell's original bid, first made in February, on July 18, but the board adjourned that meeting, postponing it to this Wednesday, after it appeared that many stockholders were against the proposal.
One person who will not be happy about the new adjournment is activitist investor Carl Icahn, who backs a rival proposal to recapitalize the firm.
On Tuesday Icahn wrote an open letter to stockholders calling for an end to the delays, saying, "We think that – after six months – the time for soliciting is over. It's time to vote. Do not move election day again. This is not a banana republic."