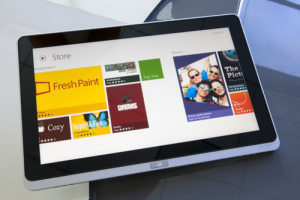 Sales of tablets, including Apple's iPad, slowed during the second quarter, according to a Monday report by IDC. But the real news may be the rise of "no-name" tablets, which are now the largest segment of the tablet market.
IDC's report indicates three trends: First, while tablet sales slowed somewhat from the first quarter, they show no signs of stopping. Compared to a year ago, tablet sales grew 59.6 percent to 45.1 million units, though they fell 9.7 percent from the first quarter. Second, Apple's virtual monopoly in the tablet market has been eliminated, as Apple's market share fell from 60.3 percent to 32.4 percent in a year's time. Finally, consumers apparently don't care if they buy a tablet from a cheaper, no-name brand, as a whopping 45 percent of tablets sold within the "other" category.
IDC analysts, however, attributed the tablet market slowdown as a whole to Apple and its lack of new iPad models, using the inverse of the "rising tide lifts all boats" argument. "A new iPad launch always piques consumer interest in the tablet category and traditionally that has helped both Apple and its competitors," said Tom Mainelli, research director in charge of tablets at IDC, in a statement. "With no new iPads, the market slowed for many vendors, and that's likely to continue into the third quarter. However, by the fourth quarter we expect new products from Apple, Amazon, and others to drive impressive growth in the market."
After introducing its third-generation iPad in the year-ago quarter, market leader Apple sat on the sidelines in 2013 and saw a 14.1 percent drop in shipments to 14.6 million iPads. But the remaining four of the top five vendors experienced massive growth, IDC reported. Of those, Samsung nearly quadrupled its Galaxy Tab shipments from a year ago, from 2.1 million to 8.1 million units. Asus grew 120 percent to 2.0 million units sold, and Lenovo jumped 313 percent to 1.5 million. Fifth-place Acer grew 248 percent to 1.4 million units.
All told, however, Apple still holds a commanding lead over the rest of the field, holding a 14.6 percent market share. Samsung and Asus hold an 8.1 and a 2.0 percent share, while Lenovo and Acer brought up the rear with 1.5 percent and 1.4 percent, respectively.
But that's before the "other" category comes into play. Like servers, customers don't seem to care who makes their tablet – a sentiment that only increased throughout the past year. A year ago, 26.2 percent of the tablets sold fell into the "other" category. During the second quarter, 38.8 percent of those sold – or 2.9 million units more than what Apple sold – were from brands that fell outside the top five.
In part, that's because more vendors are entering the market. Although Dell has remained a minor player in the tablet segment, PC leader Hewlett-Packard recently unveiled the Slate 7, a $169 7-inch tablet that comes with an even cheaper price tag than low-cost $199 tablets like the Amazon Kindle Fire HD.
"The tablet market is still evolving and vendors can rise and fall quickly as a result," said Ryan Reith, programme manager for IDC's Mobility Tracker programmes, in a statement. "Apple aside, the remaining vendors are still very much figuring out which platform strategy will be successful over the long run. To date, Android has been far more successful than the Windows 8 platform. However, Microsoft-fuelled products are starting to make notable progress into the market."
Intel has said previously that it expects ultra-cheap tablets in the $150 range to be available in the fourth quarter, below so-called convertible tablets that can double as both a notebook as well as a traditional tablet PC. Those tablets will severely undercut the price of both of the Microsoft Surface, whose Pro model was cut by $100 over the weekend, following a similar price cut on the Surface with Windows RT. "We're just stoked to be able to get it in the hands of more people," Dan Laycock, a senior manager on the Surface team, said Monday.
Do you care who makes your tablet?
What this seems to indicate is that consumers are buying platforms, not brands. iPads aside, the rise of the "no name" market means that customers still place value on the hardware itself, but other aspects, such as price, are equally or even more important. In part, that explains the "race to the bottom" that HP's Slate 7 is pursuing.
Overseas, low-cost tablets powered by chip companies like MediaTek apparently are gaining share, with negative implications for companies like Qualcomm. (As a sign that MediaTek is appearing on Qualcomm's radar, Qualcomm senior vice president Anand Chandrasekher recently called eight-core processors "dumb," an indirect slam at MediaTek's most recent announcement.)
Yes, there's something to be said for build quality. But as prices fall into the low $100 range, more consumers are willing to put up with the occasional glitch for a tablet they can buy for their kids and other family members. And while that's good news for tablet makers you haven't heard of, the market's top brands may be in some rough waters ahead.