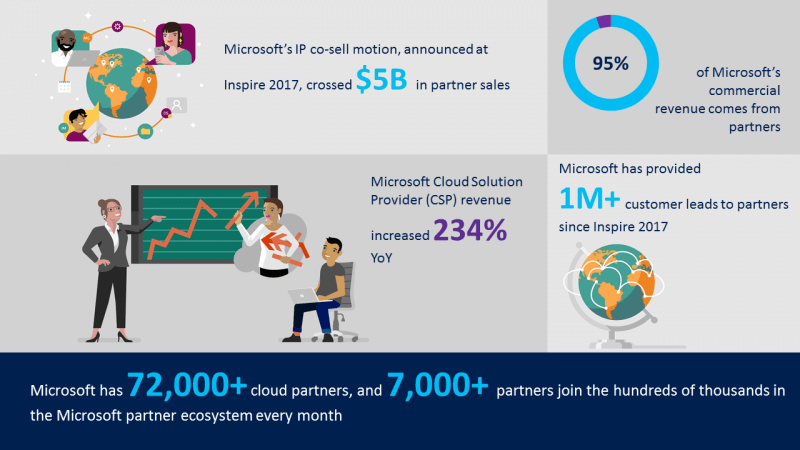 Ahead of Microsoft Inspire 2018, the company has revealed sneak peeks of some of the biggest announcements partners can expect from the annual event in Las Vegas.
Partners can look forward to updates on new programmes, tools, resources and how they can innovate, grow and differentiate their businesses.
Gavriella Schuster, corporate vice president, One Commercial Partner, said, "We are announcing exciting new innovations in Microsoft 365, including a free version of Teams, new intelligent events capabilities, the Workplace Analytics teamwork solution and more."
The company has also announced new cloud, apps and data technologies including Azure Data Box Disk, Azure Virtual WAN, Azure Firewall and more.
"We're so excited to see how our partners will leverage these new offerings to help customers embrace and innovate in modern workplace and continue to help customers in their journey to the cloud.
In addition to new technologies, we're releasing new Digital Transformation eBooks, and practice-building playbooks, expanding on the popular resources already leveraged by tens of thousands of partners looking to build and enhance their practices."
During Q3, driven largely by partners, Microsoft's Azure revenues grew by 93 percent. To further build on this momentum, the company is banking on its marketplaces and enhancing AppSource as the entry point for selling with Microsoft. It is also developing its go-to-market benefits for partners to help them grow their businesses.
"The new marketplace capabilities include integrated partner-to-partner solutions, private offers, and expanded consulting services. Each of these new capabilities provides partners new
ways to get solutions in front of a bigger base of customers and to provide them with a better buying experience. There is no greater priority for us than connecting partners with customers," adds Schuster.
She also added that the company is providing "greater flexibility and more opportunities to unlock new benefits that help partners go to market."
By the end of this year, partners with competencies will have a choice of benefits packages based on their business focus.
"We're expanding core benefits to include access to services that support generating leads, improving lead velocity, and increasing close rates for app or service offerings," says Schuster. "Additionally, we're announcing new ways for partners to demonstrate their proven expertise to customers with the introduction of new advanced specialisations and the new Microsoft Azure Expert MSP initiative. Partners can now demonstrate that they have the right capabilities to help with specific customer business challenges."