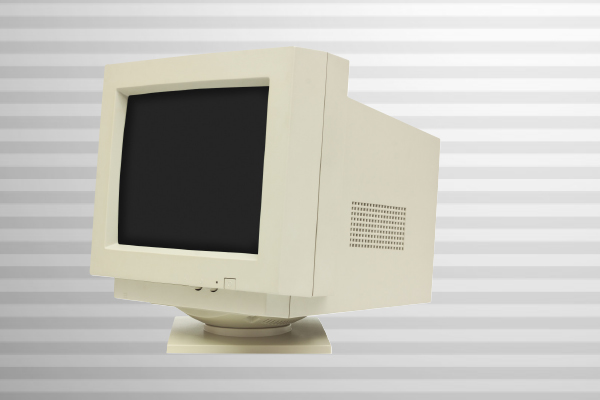 The first computer monitors used cathode ray tubes (CRTs). Prior to the advent of home computers in the late 1970s, it was common for a video display terminal (VDT) using a CRT to be physically integrated with a keyboard and other components of the system in a single large chassis. The display was monochrome and far less sharp and detailed than on a modern flat-panel monitor, necessitating the use of relatively large text and severely limiting the amount of information that could be displayed at one time. High-resolution CRT displays were developed for specialised military, industrial and scientific applications but they were far too costly for general use.
Early home computers were limited to monochrome CRT displays, but colour display capability was already a standard feature of the pioneering Apple II, introduced in 1977, and the specialty of the more graphically sophisticated Atari 800, introduced in 1979. Either computer could be connected to the antenna terminals of an ordinary colour TV set or used with a purpose-made CRT colour monitor for optimum resolution and colour quality. Several years later, in 1981 IBM introduced the Colour Graphics Adapter, which could display four colours with a resolution of 320 x 200 pixels, or it could produce 640 x 200 pixels with two colours. In 1984 IBM introduced the Enhanced Graphics Adapter which was capable of producing 16 colours and had a resolution of 640 x 350.
By the end of the 1980s colour CRT monitors that could clearly display 1024 x 768 pixels were widely available and increasingly affordable. During the following decade maximum display resolutions gradually increased and prices continued to fall. CRT technology remained dominant in the PC monitor market into the new millennium partly because it was cheaper to produce and offered viewing angles close to 180 degrees. CRTs may still offer some image quality advantages over LCDs but improvements to the latter have made them much less obvious. The dynamic range of early LCD panels was very poor, and although text and other motionless graphics were sharper than on a CRT, an LCD characteristic known as pixel lag caused moving graphics to appear noticeably smeared and blurry.