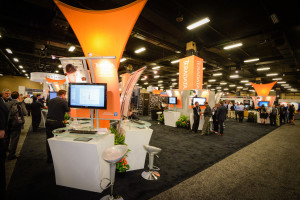 At Partners 2014, an annual event held by Teradata, transforming businesses to be data-driven was the key theme.
Partners 2014, Teradata's annual conference, which brings together the company's customers and technology partners on a single platform, reflected the data evolution by sharing best practices and case studies. Held at Gaylord Opryland Resort and Convention Center, Nashville, Tennessee, the event hosted about 4000 exhibitors and customers and held more than 200 sessions, more than half of which were led by speakers from the customer base.
The theme at the event's 29th edition was 'being data driven for a data-dependent world'. Businesses can optimise operations by leveraging the relevant information from the collected data through analytical tools. When we speak about data in a business, it is key to understand that there are various aspects to it. The first step is to collect and store data, then manage and put a relevant context to the wide-ranging data, automate it for future use, secure and protect the analysed information and finally create backups in order to retain the data in case of an emergency. With niche technologies available to help in each of these steps, organisations need to prioritise business goals and identify the areas where having the relevant information can help in delivering better services more efficiently.
Eric Joulié, President of Teradata France and VP, Southern Europe and MEA, said, "If you want to have a 360 degree view and communicate efficiently with your customer, then you must have enough knowledge about them. How are they transacting and interacting with you, which medium they prefer and the like. For an omni-channel approach, you must have maximum information about your customer.
How to be data-driven
Today customers might know the incredible potential analysing the right data can offer to their businesses. But the challenge is ensuring the business heads down the right path in this drive. The first step is to create an analytic roadmap. For this, organisations need to identify business goals and the kind of data required to meet those goals.
"The biggest change in data is that it has moved from being passive to being current and active," said Jeff Seacrist, VP, Product Management, Webtrends. "So instead of looking at reports of what happened in the past, you are using live data to actually change the experience for your clients in real-time. The more you can use data to inspire those customers to act by providing them more customised information, the better your conversion rates will be."
Applications must also be identified and deployed to make use of the collected data. Identifying infrastructure that is needed to leverage the data and support the applications is also a critical step in this process. In terms of investments, it really depends on the company's size and the complexity of the task it is trying to achieve, said Seacrist. The idea is to use data analytics as a long-term tool to deliver seamless experiences to the customer.
"Organisations are leveraging a much broader spectrum of data to drive better and proactive decision making. In the last two to three years, the economics and the capabilities to leverage things like unstructured and raw data have greatly come down, so more people are able to process and leverage that broader spectrum," said Don Tirsell, VP, Worldwide Technical Alliances, Informatica.
Challenges to a successful strategy
One of the barriers to be a data-driven company is often the 'disconnect' between IT and business. But to have an effective strategy in place, organisations must realise that all divisions are key. In one of the sessions during the event, Kimberly Choate, Director, Business Intelligence and Data Quality and Governance, IHG, along with Dan Denenberg, Partner, Teradata, explained how important it is for IT to integrate data with everyday activities of the business.
They discussed how another reason for unsuccessful data-driven strategies was the lack of a top-down approach. Choate said, "Make sure you get the support from the leadership".
And this is something Stephen Brobst, CTO, Teradata, reiterated in his talk on data science. "Data-driven decision-making comes from top-down. However, it might be difficult to get the first-generation CEOs on board as they have achieved the position in an era that lacked the benefits of data science. It is a culture that needs to be developed and this will get easier going forward."
Sometimes the technology can be the easy part but ensuring that divisions within an organisation are on the same page can be the bigger challenge. But experts at the event agreed that this is one of the first things businesses need to determine – allocating who will be responsible for collecting, overseeing and owning the data – before diving into implementing the technology.
And in some cases, organisations have a tsunami of data but converting that it into actionable information is the trick of the trade.
The key takeaway from the event was if organisations do not take the steps required to adopt data driven approaches, they run the risk of being left behind in the important decision-making processes over the next couple of years. And as technologies are becoming disruptive at a faster rate, time and speed also play a significant role.