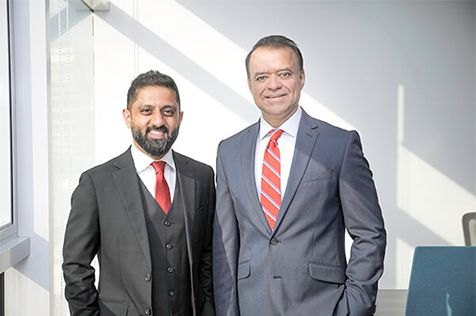 CyberKnight Technologies has officially announced the launch of its operations in the Middle East.
The launch event took place at the Radisson Blu Media City on 29th January, in the presence of the CyberKnight's leadership team and over 40 industry stakeholders including vendors, channel partners and local media partners.
During the reception, CyberKnight unveiled its innovative Art of Cybersecurity Distribution concept as well as its Zero Trust Security (ZTX) Framework.
CyberKnight Technologies, a company founded in 2019, is a cybersecurity value-added-distributor (VAD), headquartered in Dubai, covering the Middle East with on-the-ground presence in Saudi Arabia and all key Middle East markets.
The firm's ZTX (Zero Trust Security) framework incorporates emerging and market-leading cybersecurity solutions that protect the entire attack surface, by leveraging AI, to help security teams at enterprise and government customers fortify breach detection, accelerate incident response and remediation, while addressing regulatory compliance.
CyberKnight's portfolio is made up of following market-leading vendors:
CrowdStrike (EDR & threat intelligence)
Attivo (Deception)
EclecticIQ (Threat intelligence platform)
RiskIQ (Attack surface management)
Flashpoint (Deep & dark web threat intelligence)
Seclore (Data-centric security)
Phishrod (Security awareness and training & anti-phishing platform)
Zimperium (Mobile threat defense)
MobileIron (Mobile device management)
Cyberinc (Browser threat isolation)
Core Security (Automated penetration testing)
Stealthbits (Data access governance & Active Directory security)
Immersive Labs (Gamified cybersecurity training)
Valimail (Automated DMARC enforcement)
Seceon (AI SOC)
Avinash Advani, founder and CEO, CyberKnight said, "Launching CyberKnight is a commitment to our regional enterprise and government customers that our team will continue to be their trusted advisors to help them defend against today's cyber threats and adhere to local compliance regulations.
"The vendors that have been on-boarded into our portfolio in such a short period of time are a testament to their belief in our capabilities to become a full extension of their teams on-the-ground, achieve rapid ROI, TTV and market penetration," he added.
"Inspired by the Art of War by Sun Tzu, CyberKnight's Art of Cybersecurity Distribution methodology is a unique, transparent and value-driven approach to addressing existing challenges in the Channel, as well as, partner empowerment. Loyalty to our partners is fundamental to our success and is achieved by our commitment to their differentiation and increased profitability," said Advani.
Vivek Gupta, co-founder and COO, CyberKnight, said, "CyberKnight has built a best-of-breed team of cybersecurity industry veterans that come with decades of combined experience, deep rooted customer and channel relationships, local experience covering the Middle East, and most importantly the highest levels of expertise, passion and energy. In line with our vision, we strive to change the definition of VAD by keeping our finger on the pulse of innovation and emerging technology."