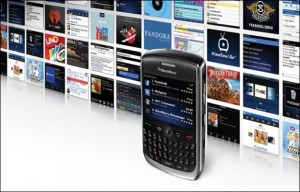 At BlackBerry Live, senior executives from BlackBerry and special guests from Asia, Latin America and Africa discussed mobile-led innovation in the world's fastest-growing mobile markets.
The emerging economies in Africa, Asia, Middle East and Latin America are the fastest adopters of mobile innovation. This is because the people in these countries are beginning to experience mobile Internet for the first time.
Smartphone uptake is exploding in these emerging markets as a product of rising wealth, brand desire, access to education, and a need for key services in health, welfare, education and finance. For instance, 28 Middle East carriers have launched the BlackBerry Z10 so far, and 15 have launched Q10. What's more, BlackBerry supports 50 app developers in the region to develop Arabic content.
Mobile is an engine of growth and, in many ways, emerging markets are further advanced in mobile service innovation. Many businesses in these markets are built first for mobile and, in some areas, a lack of telecoms infrastructure is in fact driving mobile internet innovation. At the same time, alongside this growth, the industry also needs to play its part in supporting local governments to address socio-economic challenges, to enable progress, and to build mobile ecosystems for sustained growth in the future.
The discussions throughout the emerging markets talk on Wednesday focused on the trends, challenges and opportunities in these high-growth markets, including how to overcome barriers and successfully innovate for a mobile populace, why emerging markets are the fastest and earliest adopters, and where the next 'big win' opportunities are.
The speakers included John Jackson– Research Vice President, Mobile and Connected Platforms, IDC; Robert Bose, Regional Managing Director, EMEA, BlackBerry; Wes Nicol, Regional Managing Director, LATAM, BlackBerry;Leandro Melo de Sales  , BlackBerry Academic Programme / BlackBerry Dev Labs; Alexander Rusli, CEO, Indosat (Indonesian carrier); Leon van Dyk, Developer and Apps Lab Trainer, BlackBerry South Africa; Victor Dibia, Denvycom.
All the panelists were unanimous in their viewpoint on how the emerging markets should be viewed – as unique centres for innovation.
Jackson raised the question about how BlackBerry planned to maintain its lead in the smartphone domain. To this, Bose said, "The key is to maintain the leadership in innovation."
His statement was corroborated with speakers from other regions – Bursztyn was quick to point out that Latin America is witnessing a huge shift from feature mobile phones to smartphones and, with the announcement of BBM Channel and BBM across platforms, the opportunities are huge. Van Dyk echoed the same sentiment and said that developers in South Africa wanted to reach out to a larger audience.
Jackson then raised the issue of whether lack of infrastructure in these economies acts as a barrier or a motivator – and the majority answered the latter. According to Dibia, lack of infrastructure drives creativity. He gave an example of taxi drivers who wanted to expand their business and reach more customers, and Denvycom was helping them do that through the BlackBerry.
Van Dyk also gave an example of an app called WBA (Whistle Blower Anonymous), which helps deal with corruption in South Africa.
Talking about the future trends, Rusli remarked that the demand for niche apps is going up. In Indonesia, he said, football is big, so the football community wants a particular app. Similarly, the expat community in Indonesia want certain apps.
All the panelists agreed that there is a gap between the technological side and the demands of the society and that BlackBerry needs to work to fill that gap.
Someone from the audience asked whether it would all be touch or type in the next two to three years in emerging markets. While Bose said that it would be both, Rusli was of the opinion that things will move towards touch, since the younger generation is more used to touch.
Growth opportunities were also highlighted in one of the fastest growing economies, India, where less than 10 percent of the population uses smartphones.