Fady Richmany, Senior Director and General Manager, UAE at Dell EMC, talks about Ankabut's recent Dell Technologies CSP status and the Middle East's Digital  Sector.
Talent acquisition is a major problem all over the world, and with more and more disruptive technologies emerging it's becoming an ever-bigger challenge for enterprises to find the right personnel. With that in mind, how significant was Ankabut achieving its status of Dell Technologies CSP in July? Do you envisage that this announcement will now equip them with the tools to transform the regional education sector in the UAE?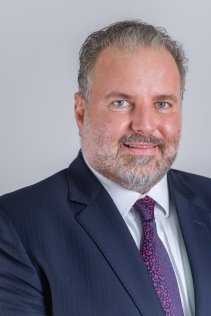 Ankabut achieving its status of Dell Technologies Cloud Service Provider (CSP) in July was of great significance not just to us, but for the UAE education sector as well. The organisation is on a quest to facilitate the provision of a first-rate education system as a pillar of the UAE National Agenda and this announcement will most certainly equip them with the tools to transform the education sector in the UAE. We do believe that our collaboration will equip Ankabut with the tools they need to assist educational institutes in their transition to the cloud and simplify their IT platforms whilst enabling virtual content sharing and learning. We understand that the way students consume and comprehend information is changing and the way to develop and enhance the capabilities of the human capital of tomorrow is to encourage collaborative learning environments. The cloud is a tool that has the potential to do this and provide eager minds with the ability to pool in knowledge and resources from relevant sources to accelerate their learning and further enhance their own capabilities in joining the workforce of the future.
In your Dell Technologies Digital Transformation Index last year you disclosed that 90% of business leaders in the KSA and UAE had expressed they were encountering real digital challenges. Twelve months on, do those same challenges prevail or has the digital divide been bridged?
The digital sector in the Middle East is poised for success like no other, with the tremendous push for digital transformation from national leadership, as well as the rapid adoption of digital technologies across the public and private sector. With the goal of improving citizen experiences and fueling economic growth, governments across the Middle East have launched ambitious national transformation plans with a major focus on enabling digital transformation.
Notably, the UAE Vision 2021 and the UAE National Innovation Strategy prioritise digital technology as one of the top seven sectors of focus, putting the spotlight on the application and rapid adoption of new disruptive technologies across sectors. Similarly, Saudi Arabia's Vision 2030 is already inspiring massive shifts in the expansion of online services including digital job boards, e-learning, online payment services, civil affairs and online issuance of commercial registers.
We are also seeing similar trends across the rest of the Gulf where technology continues to be the cornerstone of where future growth is anticipated across various socio-economic sectors. These digital transformation agendas represent nation's efforts towards unlocking the region's potential to radically improve healthcare, education, public services, among others, all with a view to making a positive contribution to society and building the extraordinary future we will live in.
The evolution of technology, new regulations and changing economic landscape will consistently bring forth challenges which companies anticipate and are planning for accordingly. If companies aren't already on their digital journey, they are falling behind. Every organisation needs to be a digital organisation, powered by data, running in a multi-cloud world. Modernising infrastructure, inspiring workforce, securing critical assets & redefining how technology is deployed with a view to future success – are all elements that will lay the groundwork for a successful digital future.
What are your primary goals and targets for 2020 in your capacity as Senior Director & General Manager, UAE, at Dell EMC?
Our key business priorities include:
• Partnering with governments and organisations to help them leverage advanced technologies effectively to drive socio-economic growth and drive positive progress across businesses and communities. We're constantly exploring routes to help our customers become digital organisations, and showcasing how the transformative innovation, partnerships, and essential technology we provide will move them and their ideas forward. Our unique ability to collaborate to deliver end-to-end IT and data solutions – from the edge to the core to the cloud – will help us continue to successfully develop digital transformation frameworks in the years to come
• Advancing the IT skillset and workforce of the future in the region, by building a strong partner ecosystem and leading by example with the introduction of multiple social impact initiatives around sustainability and diversity and inclusion
• Doing business with the highest levels of ethics and integrity – we strongly believe in acting ethically in all we do, is good business and important to our customers, suppliers and strategic partners. In 2018, DT was recognised by the Ethisphere Institute, a global leader in defining and advancing the standards of ethical business practices, as one of the 2018 World's Most Ethical Companies. This is the fifth consecutive year DT has been recognised. It is one of only three honorees in the technology industry, underscoring the company's commitment to leading with integrity and prioritising ethical business practices.