Voicera, an artificial intelligence and productivity solutions company has reportedly acquired Wrappup, which leverages AI technology to power predictive highlights during meetings, and has seen strong user-adoption globally.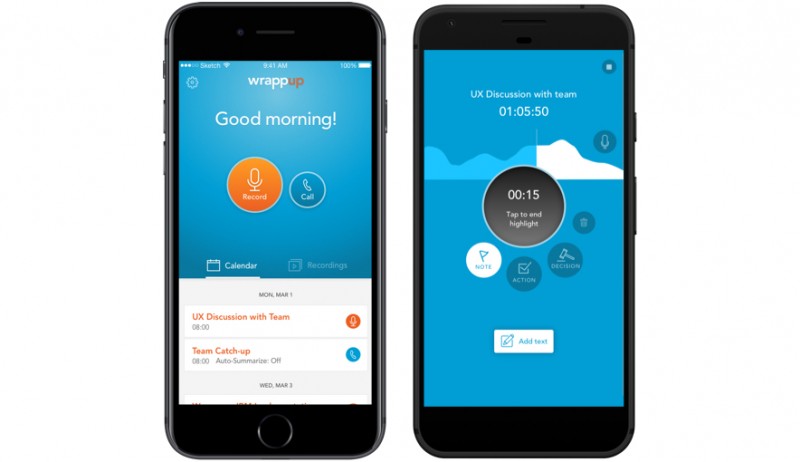 "Both companies approached the problems with meetings in synergistic ways.  Wrappup's mobile-first, in-person meeting product complements and extends Voicera's initial focus on conference calls," explained Voicera CEO Omar Tawakol. "We kept track of Wrappup from the first hackathon award they won and we are excited to have them join the team."
"Wrappup was founded on the idea of squeezing the most important moments out of meeting conversations, while also capturing all the nitty-gritty details for easy reference.  Joining forces with Voicera unlocks that potential beyond anything we could have ever imagined," explained former Wrappup CEO Rami Salman. "Our combined tech stack and AI algorithms more accurately identify and summarize important moments from all your meetings, regardless of where they are held. "
As part of the deal Voicera will unveil the new app, available on both iOS and Android platforms, to allow for Eva, Voicera's Enterprise Virtual Assistant, to join conversations on the go.  Also unveiled are the AI-powered Predictive Highlights, providing a 'lean-back' experience for all meetings.
In this experience, Eva, listens for important moments in the conversation and automatically highlights and transcribes them, with higher accuracy. Following the meeting, Eva emails the highlights to the user for review.
Predictive Highlights leverages the rich voice AI to automatically identify moments, generate summary emails, and provide full text and audio transcription access from the platform.
These enhanced functions can even allow Eva to serve as your proxy at meetings that you cannot attend.  Users can choose to control functions and leverage either voice-activated or tap-to-highlight commands to add key moments to a meeting summary or rely on the automated Predictive Highlights for the lean-back experience.
Voicera is one of the first voice-based AI solutions that naturally extracts value from conversations between people rather than exchanges between a person and a device.  Voicera leverages a combination of voice recognition, natural language processing, and machine learning to provide attendees with a meeting recording, full transcription and high accuracy meeting highlights.
Voicera's platform is designed from the ground up to handle multiple speakers, deliver higher accuracy rates than existing transcription services, and provide secure data-ownership controls.  Voicera's integrations enable Eva to operate for any conversations with high-quality audio such as BlueJeans, Zoom, Google Hangouts, UberConference and Skype for Business.
Wrappup's team joins the Voicera team and continues to work on platform growth and cutting edge artificial intelligence research and development. Other terms of the deal were not disclosed.