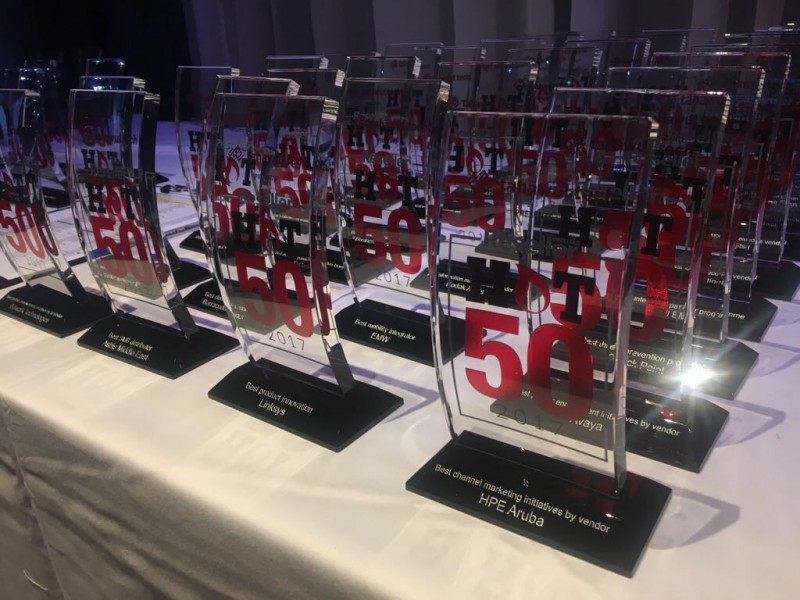 In the sixth edition of Reseller Middle East's Hot 50 Awards, players across vendors, distributors and systems integrators, were applauded for their diligence and innovation in the regional channel industry this evening at Privé Lounge, Nikki Beach Resort, Dubai.
With over 150 attendees, the exclusive event served as a platform for industry stakeholders to network and celebrate the successes of the year. Players that are committed to the channel business and have catered to the evolving customer demands innovatively were recognised as part of the elite Hot 50 club. Chosen carefully by Reseller Middle East's editorial team, the winners have developed and shaped the regional IT channel business over the last year.
This year, the awards also introduced its inaugural edition of Marketing Megastars, honouring marketing individuals for their creative efforts behind elaborate marketing campaigns to raise awareness and reach about their respective brands. The winners included Sandra Skairjeh, Micro Focus; Manish Bhardwaj, HPE Aruba; Neethu Paul, Epicor Software, Carlos Robles, Gulf Business Machines, Mallika Sharma, Exclusive Networks and Akshat Gaur, Redington Value Distribution.
Over the last six years, the Hot 50 Awards has grown to be a ceremony that the regional channel industry looks forward to annually.
The Reseller ME's Hot 50 include companies spanning a wide range of sizes and specialities, here is the full list of winners:
| | |
| --- | --- |
| Best channel engagement initiatives by distributor | Al Jammaz Distribution |
| Best demand generation initiatives by distributor | Aptec, an Ingram Micro Company |
| Best SMB distributor | Asbis Middle East |
| Best partner engagement initiatives by vendor | Avaya |
| Best cloud security vendor | Barracuda Networks |
| Best partner empowerment initiatives by distributor | Bulwark Technologies |
| Best threat prevention provider | Check Point |
| Best SMB channel initiatives by vendor | D-Link Middle East and Africa |
| Best integrated partner programme | Dell EMC |
| Best mobility integrator | EMW |
| Best channel expansion initiatives by vendor | EnGenius |
| Best partner enablement initiatives by distributor | Exclusive Networks ME |
| Best cybersecurity vendor | Fortinet |
| Best storage solutions vendor | Fujitsu |
| Best IT solutions provider | Gulf Business Machines |
| Best enterprise solutions VAD | Gulf Software Distribution |
| Best security services provider | Help AG |
| Best channel marketing initiatives by vendor | HPE Aruba |
| Best IoT solutions provider | Huawei |
| Best partner training initiatives by vendor | Infoblox |
| Best partner sales support by vendor | Infor |
| Best cybersecurity consulting services | ITSEC |
| Best post-sales support by vendor | Juniper Networks |
| Best endpoint security vendor | Kaspersky Lab |
| Best information management vendor | Kodak Alaris |
| Best product innovation | Linksys |
| Best video collaboration vendor | Logitech |
| Best support services provider | MDS ap |
| Best channel management by vendor | Micro Focus |
| Best email security vendor | Mimecast |
| Best cybersecurity solutions provider | Nanjgel Solutions |
| Best cabling vendor | Nexans |
| Best payment solutions provider | OMA Emirates |
| Best NAS solutions provider | QNAP |
| Best IT risk and audit vendor | Quest |
| Best partner accreditation programme | Red Hat |
| Best pre-sales led initiative for channel | Redington Value Distribution |
| Best partner growth schemes by vendor | SAP |
| Best post-sales support by distributor | Sariya IT Distribution |
| Best SME security vendor | SonicWall |
| Best UTM vendor | Sophos |
| Best channel support initiatives by distributor | Spire Solutions |
| Best partner collaboration by vendor | Splunk |
| Best storage specialist VAD | StorIT Distribution |
| Best partner development initiatives by distributor | TechAccess |
| Best consumer offering by vendor | Toshiba |
| Best cloud integrator | TransSys Solutions |
| Best retail specialist distributor | Trigon |
| Best channel training initiatives | Westcon-Comstor |
| Best portable storage vendor | Western Digital |