Synology has launched DiskStation DS1517+ and DS1817+, two 'powerful and scalable' 5-bay and 8-bay tower servers.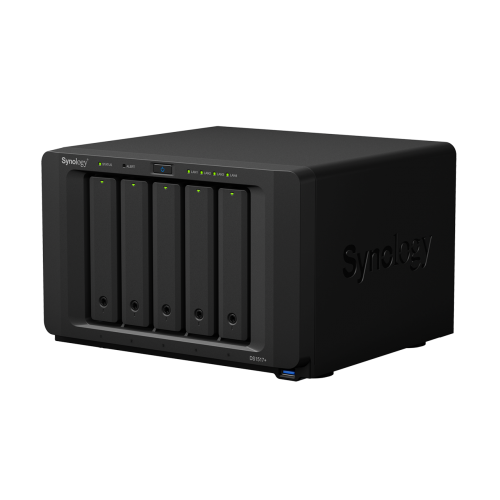 According to the company, these new servers offer a high-performance, reliable, and versatile network-attached storage solution for tech enthusiasts and small/medium-sized businesses.
Both devices are equipped with a PCIe slot, which allows users to install an optional 10GbE network interface card or Synology's new M2D17 M.2 SATA SSD adapter. In addition, DS1517+ and DS1817+ both come in 2GB and 8GB memory configurations, which can be upgraded to 16GB with its accessible memory compartment.
Synology highlighted that an additional network interface card allows enthusiasts and businesses to take advantage of up to two 10GbE ports to boost maximum throughput. When combined with the Intel Atom quad-core 2.4GHz processor and equipped with optional dual channel memory, DS1517+ and DS1817+ can deliver sequential throughput performance up to 1,179 MB/s reading and 542 MB/s writing speeds.
DS1517+ and DS1817+ are both capable of connecting up to two DX517 expansion units, allowing users to add up to 10 additional drive bays and scale up storage capacity on-the-fly. Both devices are powered by DiskStation Manager (DSM) 6.1 operating system for Synology NAS devices.