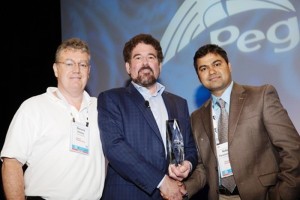 Tech Mahindra has won the award for leading the business transformation for a Fortune 10 corporation at PegaWORLD 2014, held in Washington, DC.
The Pegasystems Partner Excellence award recognises Partner organisations for their ability to use Pega to bring about business transformation in customer enterprises.
Mahindra's winning solution resulted in "process standardisation while optimising resources," and led to a collective saving of around $5 million as well as an "increase in operational efficiency and customer satisfaction."
"We use Pega's innovative technology as a critical part of our Digital Enterprise Solutions to help personalise and enrich customer experience with contextual application of analytics while digitising enterprise process," Sriram Krishnan, Global Head of Content, Process and Unit Experience Management Unit, Tech Mahindra, said. "This award is a testimony of our ability to transform enterprises into customer-centric organisations".
The award coincides with Tech Mahindra's and Pegasystems partnership of over 10 years which has witnessed over 100 successful implementations and has qualified Tech Mahindra as a Platinum partner.
"We are proud to recognise Tech Mahindra as the Business Transformation award winner at our PegaWORLD conference this year," said John Barone, Vice President, Global Alliances, Pegasystems.  "Tech Mahindra has demonstrated its leadership, industry knowledge, delivery excellence, vision, and ability to deliver transformative, integrated Pega solutions for our customers."
Tech Mahindra has been developing a number of cross-vertical solutions such as Reinvent your CRM, Supply Chain Management, Continuous Working Capital Reduction, Asset Consolidation, Decision Management, Order Management and Service Lifecycle Management on Pega platform.