Alaa Elshimy, Managing Director and Vice President, Huawei Enterprise, takes us through the company's new 'SMB Seed partner programme', the firm's first step into focusing on the SMB business in the region.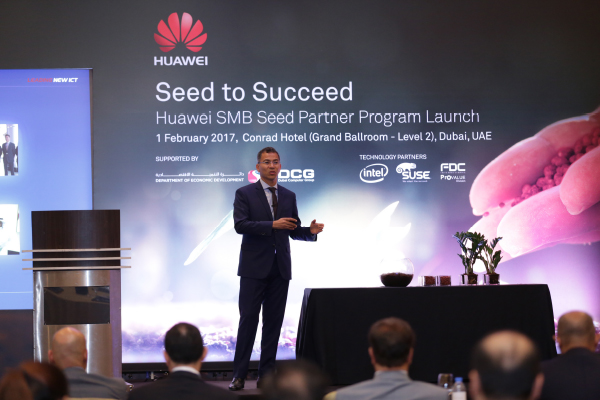 Today, the biggest challenge that resellers face in the market is leading business-driven infrastructure discussions. SMB-focused partners are only talking about infrastructure business, which is why they need to transform," says Alaa Elshimy, Managing Director and Vice President, Huawei Enterprise.
Having identified this opportunity in the SMB segment, Huawei Enterprise held an event, 'Seed to Suceed', last month to inform partners about the 'SMB Seed partner programme', which is aimed at enabling them to have comprehensive ICT discussions with their customers.
According to Elshimy, regional SMB resellers need to understand the importance of offering their customers end-to-end solutions.
"Customers are no longer only talking about buying desktops or servers, they are seeking solutions that can have an impact on their overall business. Our aim is to enable and empower resellers to go to the next phase of transforming into an ICT solutions provider."
With this programme, the company has added the SMB market into its objectives for the year and have increased its budget to continue training, enabling and developing partners.
He adds, "The customer is now focusing on spending on targeted business objectives, and not just infrastructure. Some customers are able to cope with the change and some don't. Here is where our partners will play an important role."
At the event, the company onboarded more than 50 new SMB-focused partners, from the 200 plus resellers in attendance.
According to the MD, the first step is to train and certify partners to enable them to talk the language of digital transformation.
"They need to be trained on the new cloud era and how Internet of Things is driving business processes in the SMB segment. The access to training and educational resources is one of the advantages of partnering with us in this programme," he says.
The second benefit is that the company is offering partners a portfolio of products and solutions that will increase their addressable market.
"By training them to offer comprehensive solutions, we are increasing their business opportunities in the market. But we also understand that not everyone will want to make this transformation. This is why we will also sit down and understand their focus areas so we can help them prepare for the future."
The programme also allows a reseller who has developed his own software or is a partner for another vendor, to integrate the products into the overall solution offered to customers.
Elshimy says, "We have our open lab where partners can come to test their product and discuss ideas that they want to innovate and develop. This also means even other partners in the ecosystem will be selling our offering. The idea behind this is that everyone who wants to innovate can become a component of a bigger ecosystem where there is mutual support and simultaneously a better solution is provided to the customer and market.
"There is mutual commitment from us to help them grow the business. We are targeting to have around 100 partners in this segment. Till date, we have signed up around 55 partners, so the door is still open. We have a clear objective to help SMB players to transform in the market by becoming Huawei partners," he adds.
But leading business-driven infrastructure discussions also means partners have to identify their strengths and core focus.
"We are hoping to have joint business planning with our partners where we can identify the demand in key verticals to leverage our partners' strengths in those areas."
Low margins are one of the biggest challenges regional partners face today and according to Elshimy, partners can be assured of double-digit margins with this programme.
"When partners sell solutions and services around it, they will definitely make better margins. We have also ensured there is a strong rebate structure within this programme," he adds.