Ellie Abou Semaan, Managing Director-Gulf & Levant at Ingram Micro tells Anita Joseph, Editor, how innovation, continuous improvement and professional enablement have helped Ingram Micro build a solid reputation in the IT distribution field and create maximum value for customers.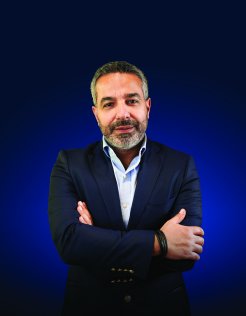 Tell us about your portfolio expansion plans.
Expanding our portfolio is an ongoing approach that Ingram Micro ensures to maintain. In addition to the wide range of new vendors that were added this year, our plans for 2023 are not any different.
We will continue to broaden our vendor portfolio across all technologies; however, as per market trends, our focus on AI, Cloud, and cyber security will remain our goal.
What differentiates Ingram Micro from the rest of the competition?
Continuous improvement has been the shaping impulse of Ingram Micro. We spare no resources when it comes to our team's technical and professional enablement; over and above that, we realise the importance of research and development to understand market trends and customer behavior. This has allowed us to take a distinctive position in the market and be one of the real leaders in IT distribution.
How important is the channel ecosystem to Ingram Micro's growth?
The channel ecosystem is the core of our business, be it Resellers, System Integrators, ISV, Global System integrators or Vendors. Their trust and confidence are essential for our company; hence we focus on value creation at every part of our journey with the channel ecosystem.
We always think and execute one step ahead to add value to this ecosystem. That is how we established our Specialty Divisions ranging from Cloud, Cyber Security Services – Center of Excellence, Professional Services, and Artificial Intelligence- IoT. Today we are glad that many of the channel ecosystems are leveraging our Specialty Divisions to add value to their Business / End customers.
We Segment our Channel Ecosystem and provide the required focus and attention. For example, say we have a dedicated cross-product Channel Division to provide a dedicated focus on Enterprise, GSI, and SME Segment, and we have an organisation-wide strategy to support and grow with the SMB Partner Ecosystem. In addition, we have dedicated business teams for every vendor alliance, Marketing, and other functions closely aligned to the Channel segments.
What is your vision/plan for the channel for the coming year (2023)?
As always, our vision for the channel is closely associated with the value creation we provide to them through our solution engagement associated with our Vendor Portfolio and Specialty divisions. The channel can leverage these to differentiate itself and make the end customers successful.
More focus will be on understanding the vision of the channel partners and supporting them with setting up new practice for newer technology or new business vertical,  solution selling,  end customer approach along the channel, focused engagement on emerging areas, including cybersecurity-Kubernetes – Automation- Cloud- Unified Communications,  making more channel partners leverage the Ingram Micro Cyber Security  Services -Center of Excellence / professional services, supporting the SMB segment with appropriate knowledge and required presales Proof of Concept, channel financing and much more.
Subject: Securing products on the cloud
Since digital transformation is accelerating fast and IT products are racing to keep pace and secure these products on the cloud, it is essential to consider the principles required to ensure security is in place.
Below are the most steps that should be considered but not limited to:
Cloud Security Assessment
o   It will help to demonstrate the security posture of the strengths vs. weaknesses against the cloud security framework and best practices.
Vulnerability Management and Penetration Testing
Vulnerability management will help to find the gaps in each technology that requires an update or patch to secure and close the gaps.
Penetration testing will demonstrate the capability and possibility of attacking the gaps that have been found and then securing those gaps to avoid any potential hacks happening again.
Cloud security controls
o   Technology
Security controls should be in place to secure the technology on the cloud, and configuration and architecture reviews should be implemented to ensure the security controls are implemented per the standard and business requirements.
Access control must be established and reviewed periodically.
Secure Communication must be in place to ensure the connection is secure, such as using VPN.
Using multi-factor authentications.
o   Data
The most important is to secure the data to avoid data loss and breach. Since no one knows where the data is located on the cloud, the data should be encrypted, using data masking and tokenization to ensure it is secured and accessible to authorised users only.
Third-party Vendor
o   To ensure the service provider complies with the standard and there is an SLA to ensure the business is resilient.
o   Cloud processes must be defined, implemented, managed, and measured to ensure the effectiveness of technologies and their updates and monitored.
o   All users must be trained on the cloud technologies to handle the required tasks correctly and on time and to avoid any problems that might put the organization at risk.
o   Technologies and users must be tested to ensure the technologies are secured and the users are tested to raise awareness against the latest attacks (such as phishing campaigns).