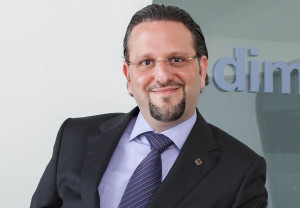 Youssef Fawaz, Managing Director, Middle East, Dimension Data, discusses how the company's managed cloud platform enables it to stand out from competition.
Cloud has proven to be a boon for businesses. With better levels of education and awareness, end users are overlooking the traditional means and moving IT operations to cloud. In such a scenario, is cloud a threat or an opportunity for systems integrators and other channel partners? "Definitely an opportunity," says Youssef Fawaz, Managing Director, Middle East, Dimension Data. Although cloud affects hardware products, it is also an opportunity to discover new business ideas. Channel partners must innovate to stay relevant in the system.
Systems integrator, Dimension Data has been able to foresee the opportunities and has developed its own Managed Cloud Platform (MCP). One of the things customers must have in place is a robust infrastructure when moving to the cloud. Dimension Data offers cloud services through a completely managed cloud delivery platform. "We are relevant globally and we provide multiple types of cloud for the hosted cloud," explains Fawaz. He says the company's ten Managed Cloud Platform, enables them to compete with the bigger players globally. Also what works really well is the model where the systems integrator customises for the local market and service providers. "We have partnered with one of the service providers in GCC on cloud, they resell it for us and we partner together. We also have a private cloud which is specifically for enterprises. They want to have the right mix with cloud, for example our cloud with their local cloud, so that they can use it as a DR. We have the mix which the clients require."
Dimension Data believes it stands out from other vendors in one very big way. "We do a lot more than mere box placing. Our job is to ensure that we have met all the SLA required so that business continuity is not affected." The demand for more number of data centres is increasing and customers want to move on to the fast track. Cloud helps in cost saving, however added to that, it enables the ability to execute in a faster manner. "Customers choose us because we offer better agility and this enables them to be up and running in a shorter time," explains Fawaz.
What is interesting to note is that the business model has become more utility-based and is paid for accordingly. For the systems integrator, IT-as-a-service has been the business focus. And this trend has transformed over time. Today more and more customers demand the solutions to be tailored-made. "You don't invest 7 or 8 digit infrastructure, you pay as per your consumption. Because we have the culture of managed service and service business, we are not a product-driven organisation. This is why once we have our own cloud and intellectual properties, we have made the model to match with what the client needs and what the future needs," adds Fawaz. "The traditional IT business is not as it used to be. It is now becoming a commodity. Our focus is transforming the business in a way to focus on the client in different interactions."
Fawaz believes as the technology becomes more mature and as customers realise the potential of cloud and hosted services, there will be more opportunities coming in.
With a large client portfolio in various verticals such as financial, government, hospitality and transportation, Dimension Data has a global reach through its services. Fawaz says, "We are a service-driven company. We are not just a box-mover, we are really focused on how the clients can achieve his business objectives."
The company has recently expanded to Oman, as part of its footprints in the GCC. Its other offices include Dubai, Saudi Arabia and Bahrain and works through preferred partners in other regions.