Loubna Imenchal, Head of Enterprise Business at Logitech AMECA,  tells Anita Joseph in an exclusive interview why the channel ecosystem is vital for the
company's success and how Logitech is equipping its partners to cope with the rapidly changing technology landscape.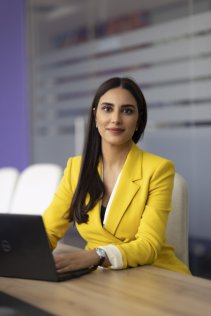 How important is the channel ecosystem for Logitech in the region?
Logitech believes that when we work together, we do business better. In fact, Logitech's go-to-market approach for video collaboration and professional work solutions is built on partnerships. Our partner community delivers the value and support our customers want. To be more specific regarding the UAE, Logitech counts more than 100 tier-1 partners, distributors, and solution integrators in the Middle East. Together with our market-leading solutions, these key partners enabled Logitech to achieve rapid growth in its video collaboration business.
We held the Logitech Video Collaboration Summit 2022 in Dubai earlier this year, and it was a huge success. Within the context of the conference, we had the chance to outline our channel strategy in the region, showcase Logitech's latest solutions, exchange best practices, and celebrate recent accomplishments with our channel partners. The Logitech channel ecosystem, as you can see, is a key pillar of our strategy and success in the region.
Tell us about Logitech's partner ecosystem. What are the highlights of being a Logitech partner?
Channel partnerships have long been a key part of the technology sector. Logitech gives our valued channel partners all the recourses and assistance they need to grow along with us. We also know that partnering works best when it is simple. As a result, we are committed to being easy to work with while also delivering tools and solutions to help our partners stand out.
One thing that can be said with absolute certainty is that customer demands have rapidly intensified over the last several years, and partners should adopt an ecosystem approach to doing business in order to remain relevant.
The Logitech Channel Partner Program has been carefully developed to provide our partners with several advantages without the hassle and complexities seen in comparable schemes. The program utilizes a tier-based structure with progressively higher levels of rewards, incentives, and perks. Logitech partners get access to the Logitech Partner Portal, which includes sales tools, marketing materials, and training.
Meanwhile, for higher tier partnerships, we offer co-marketing funding,  inclusion in the Logitech Partner Locator on our websites, and access to the Lead Distribution Program and Logitech marketing team. However, channel partnerships, like most business relationships, rely on the interpersonal dynamics between the parties. We have a dedicated Logitech Channel Account Manager who supports and works with our partners to engage end customers.
With digital transformation accelerating at breakneck speed, how is Logitech equipping its partners to cope up with the changing technological demands?
As technology continues to reshape work, Logitech together with our partners are uniquely positioned to help address emerging and evolving hybrid work trends. Raising the bar on meeting room and personal workspace solutions and optimizing collaboration for the hybrid worker, our products have become a hallmark for frictionless user experiences and scalable deployments for every meeting space.
The acceleration of digital transformation, in part due to the recent pandemic, changed the way we work dramatically. Work is no longer defined by a single place. It may or may not take place in an office. Work happens wherever people are, and Logitech supports hybrid work by providing video collaboration solutions that offer cutting-edge meeting experiences for everyone regardless of location. In reality, our solutions are our partners' most valuable asset.
For example, Logitech's video conferencing solutions are built around a comprehensive ecosystem of hardware, software, services, and world-class partnerships. Our products and solutions are tested and certified to ensure compatibility with the world's leading video conferencing platforms. One reason organizations employ Logitech devices in their meeting rooms is the sophistication of our video and AI technologies. Logitech video collaboration solutions are reliable, easy to set up and manage, and straightforward to use. They encourage meeting equity and equal participation by allowing everyone to be seen and heard clearly.
The way we work with partners has also evolved.  Logitech is also making it easy for its partners to do business with us with digital solutions, online trainings, self-service marketing portal, and the partner portal to access Logitech's online resources and tools.
Logitech is experiencing rapid adoption of video collaboration in the Middle East, even as hybrid working models remain popular. How much have your channel partners contributed to this success?
Despite the fact that Logitech has the most extensive range of video conferencing and collaboration solutions, this alone would not be enough to ensure success. Our channel partners reach more customers with their wide network, and that contributed  significantly to Logitech's local achievements. In today's highly competitive business climate, maintaining and growing a brand's market share is a difficult feat. However, our regional partners helped us achieve the full scalability of our products and services.
With Logitech's support and training, our channel partners are able to provide end-customers in the UAE highly personalized solutions, tailored to their business needs. We are discussing an operational model that is enabled by partners and centered on the customer. Because of Logitech's swift adaptability to ever-changing business needs, our partners can effectively convert their clients' desires into reality.
Furthermore, we always take into account that our channel partner community has the most direct contact with Logitech's end customers. As a result, we leverage the gathered input from their regular and dynamic interactions with customers to further improve our solutions and create outstanding end-user experiences that benefit all parties involved.
Additionally, Logitech's channel partners play a crucial role in supporting and amplifying our marketing efforts and reach. Our channel partners in the UAE have an in-depth understanding of the local market. In conjunction with our support and coaching, they perform effective offline and online marketing initiatives. Partner marketing contributes to stimulating customer interest, generates leads, and, ultimately, drives sales.
Tell us about Logitech's latest range of products and services.
Logitech has been a company focused on innovation and quality since its establishment in 1981 in Lausanne, Switzerland. So, although we now provide a diverse variety of products and services that can meet the demands of any business, even in volatile times, our product design teams are restless, and new product releases are planned for this fall.
The new Logitech Brio 505 is one of them. We are talking about a next-generation web camera, offering superior video quality. Logitech's exclusive HDR technology automatically corrects the light in real-time.
The Logitech Zone Vibe Wireless headset is another notable release. Certified for Google Meet, Google Voice, and Zoom and compatible with major video platforms such as Microsoft Teams, Zone Vibe Wireless makes joining any meeting simple and easy. The new, lightweight headset provides up to 20 hours of real wireless freedom and may connect to users' devices through Bluetooth and the accompanying USB receiver.
Logitech also has software and apps to help customers easily manage and optimize their video tools and devices. At the enterprise level, Logitech Sync is a cloud-based remote device management software that allows enterprise IT to maintain, manage, and regularly update their video collaboration implementation from any location. IT teams are able to ensure their Logitech video collaboration devices and tools are healthy and up to date even remotely. While Logi Tune is equivalent to a video meeting "maestro" because it enables end users to control their video meeting experience wherever they are: at home, in the office, or on the go. Webcam and headset settings are all at users' fingertips to ensure they look and sound the way they want in video meetings.
The Logitech Brio 505 and Zone Vibe Wireless are compatible with Logitech Sync and Logi Tune Desktop.
Of course, more exciting Logitech video conferencing and collaboration products are on the horizon, but we would rather not give anything away just yet.
What are Logitech's plans for this region? 
We are witnessing an increase in the adoption for video collaboration as a result of the hybrid work trend and rapid digitization that is driving hyper-connectivity through advanced video conferencing tools and devices. Logitech will provide the market with needed video collaboration tools to support employees that are transitioning between office and home-office seamlessly. We will work with our partners to create deeper integrations. Our co-selling strategy Logitech training programs, marketing and sales enablement tools to help partners grow.  We plan to promote our products in the coming year, to drive the usage of video collaboration solutions and devices across the region, while we help organisations adopt our video collaboration tools. We will also focus on talent building which is also essential to bridge the gap in the unprecedented digital skills gap as more jobs demand digital skills. It is also worth mentioning that Logitech provides industry-specific solutions for the Healthcare, Government, and Education industries, and this is another significant benefit for our channel partners. As a consequence, not only are they able to keep up with changing technology demands, but they also have amazing development potential.