CNME December 2016
Al Hilal Bank CIO Gopi Krishnan's determination for digital success
Pure Storage Fuels Mercedes
Glesni Holland caught up with the Mercedes F1 team on their recent visit to the UAE for the 2016 Abu Dhabi Grand Prix, and heard from the team's executive technical director, Paddy Lowe, about how a high-performing storage solution is crucial to gaining a cutting edge out on the tarmac.
In-depth: The Entertainer
For Dubai's savviest shopppers, diners and fun-lovers, The Entertainer is a faithful companion.
Case Study: Ajman Bank
Compelled to propel the bank into the digital age and make it a technology beacon for the northern emirates, Ajman Bank sought wholesale changes in its data centre to enable the young organisation to deliver on its long-term goals.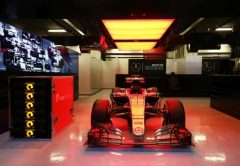 0
1855
With Pure Storage, the team aims to accelerate the analysis of its data-centric transactions that impact car performance and lap time, and is raising the bar for mission-critical business applications that underpin the entire organisation.