Thousands of IT stakeholders, delegates and customers were in attendance on Day 1 of the Oracle OpenWorld Middle East conference which kicked off this morning at Dubai World Trade Centre.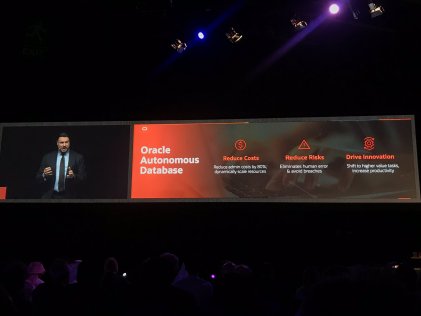 US technology behemoth Oracle has really positioned itself as a leader in cloud technology – and it used its Oracle OpenWorld symposium to illustrate this further by outlining some of the success its clients have enjoyed since switching to Oracle Cloud.
Steve Daheb, SVP at Oracle Cloud delivered a colourful presentation which really illuminated the impact Oracle is having on the global IT ecosystem.
During his keynote presentation he articulated how Oracle was fusing new technologies to enhance the offering of its diverse product portfolio.
"Autonomous technologies are really allowing us to reshape our whole approach to IT. However, it has also become evident that technologies are now shifting from being viewed as emerging and are instead now becoming a reality. We're integrating these transformative technologies into our overall product offerings," said Daheb.
Daheb also highlighted how it was an extremely exciting time to be in the region and said that companies in the Middle East, North Africa and India were leveraging emerging technologies to drive growth and change across their existing operations.
In addition to this, he illustrated how Oracle Cloud was specifically designed to help any business regardless of its size to reshape how it offers its services and products to its customers.
"Oracle Cloud really is an incredible set of solutions that helps our customers achieve their objectives and needs. It doesn't matter how large or small your business is, or what industry you operate in – Oracle Cloud allows you to fundamentally change how you do business," said Daheb.
The Oracle SVP stressed that whilst the Oracle Cloud platform has both the agility and flexibility to enable you to reshape your existing business model, it's vital to understand what you need to do with the data you're now accessing in order to be able to implement change.
"When we talk about transformation, what do we mean? Transformation isn't just about moving to the cloud. It's what do I do with the data now that I've moved it? It's not just the process of lifting and shifting to the cloud. It's critically important that you know how to leverage one set of capabilities against the other now that you've transitioned to the cloud," said Daheb.