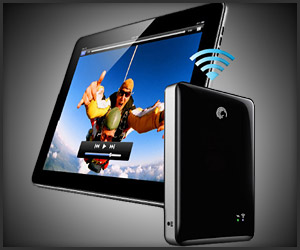 Seagate Technology, the Middle East Retail Storage Vendor of the Year 2011, will showcase its range of external storage solutions for home and small businesses at GITEX Shopper, 8-15 October, Airport Expo Dubai.
Taking centre stage will be two of the company's latest offerings; GoFlex Satellite mobile wireless storage and the 4TB GoFlex Desk external hard drive, the world's highest capacity hard drive, the company said.
Seagate will be located at stand number WH1-1 in the West Hall.
Available in the Middle East since August, the GoFlex Satellite drive is the first battery-powered external hard drive to wirelessly extend the storage capacity of iPads, other tablet computers and smartphones, Seagate said. With 500GB, the wireless storage device provides the ability to carry an entire library of video, music, pictures and documents with you. Devices are wirelessly connected directly to the GoFlex Satellite drive by use of the free GoFlex Media app for iPad or Android, or via a web browser, representatives said.
The 4TB GoFlex Desk external storage solution, which features Seagate's new streamlined industrial design, has the space to contain over 2,000 HD movies, the company added. This new GoFlex Desk external drive comes at a time when people are archiving more of their memories in the form of digital photo and video. It will be available in the region later in the year, representatives of Seagate concluded.