Hikvision's latest Pro Series cameras can take over the security duties for you. Now Hikvision has embedded both its AcuSense AI technology and its low-light ColorVu technology. This combination creates a powerful hybrid, providing 4K ultra HD color for you to see a scene clearly, and the intelligence to be able to recognize a security breach. All these can be accessed and viewed remotely using Hik-Connect app on your smartphone or tablet.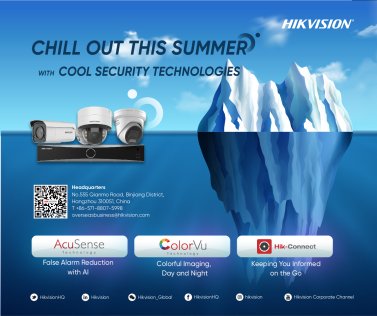 See it clearly… 
We understand that you might be concerned about your pretty garden that you've been looking after, or your cat that is fed by a pet sitter during your leave. There is nothing better than a high quality, full-color real-time video which can reassure you. And that's what the Hikvision cameras with ColorVu can provide.
Hikvision ColorVu technology ensures the best possible vivid color to be reproduced in extremely dark scenarios, even on a moonless night. Cameras with ColorVu guarantee video with colorful details when they are needed.
Access it easily…
It is easy with the Hik-Connect app on your smartphone, which connects and communicates with all your security devices at your premises. With Hik-Connect, you have full access of real-time feeds, you can playback and receive event notifications remotely, even when you are lying on a beach.
Understand it quickly…
Hikvision AcuSense AI technology enables a security camera to only trigger an alarm when a human or a vehicle pops up in the camera view, for example if someone enters the restricted area in your warehouse, so you can focus on the real threats and act only when needed. To take things one step further, some cameras with AcuSense AI can flash to deter the intruder away, or even allow you to give a warning through the built-in speaker. In this way, you don't really need to worry and waste time on your holiday.
A powerful combination
With AcuSense and ColorVu, the latest Hikvision Pro series cameras are able to deliver much clearer, vivid color images helping you to see the scene clearly. It also means that you can understand much more readily what you are looking at, with automated alerts demonstrating real security breaches.
Hikvision also provides environmental detectors from its AX PRO wireless alarm system to improve home and business security, such as smoke detectors and water-leak detectors.
Let technology take away the stress, so you can chill out this summer!
Learn more about Hikvision Cool technologies.
https://www.hikvision.com/mena-en/newsroom/blog/a-technology-triumvirate-to-help-you-chill-this-summer/