The birth of commercial inkjet printing can be traced all the way back to 1984, when thermal inkjet technology developed at HP was introduced in a high-quality, low-price personal printer known as the ThinkJet.
Producing both high quality (192x96dpi) and high speed printing (150 characters per second) resulted in HP dominating the inkjet printing space for the subsequent 10 years. Marketed as "getting along with everyone," the printer was compatible with "just about any personal computer" on the market at the time.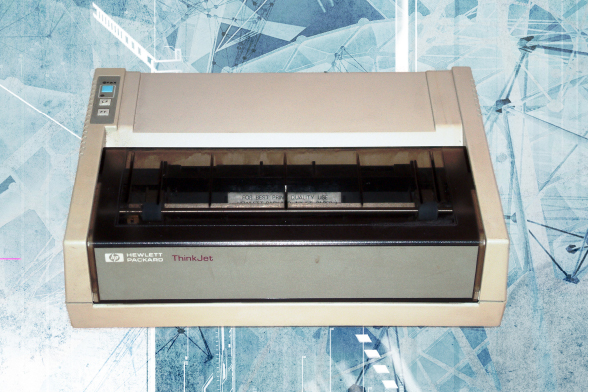 However, the ThinkJet did have some limitations which inhibited its acceptance and consequently slowed the uptake of inkjet technology.
For starters, it required special paper, which was understandably an inconvenience for the user, as well as being an additional expense. And while the print head wasn't intended to become worn due to the fact that the head was said to never actually touch the paper – thanks to the ink being sprayed from the head onto the printed document – should you have needed to replace it, they were particularly hard to come by on the market.
Nevertheless, the printer's main selling point was the fact that users were able to "talk on the phone while printing," as inkjet technology spelled the end for the noisy dot-matrix printer. It also came in a battery-powered version with an HP-IL interface, enabling users with the option to print on the go.
The ThinkJet weighed less than 3.15 kilograms and measured just 30 centimetres in width, making it the ideal size for personal desk use. It was also the smallest printer produced by HP until 1992, when the DeskJet Portable was introduced.