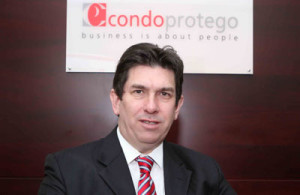 There's no success without the blood, sweat and tears of a proper training regime, says Condo Protego CEO Andrew Calthorpe
This summer has been packed with immense sporting drama.
Andy Murray smashed his way into tennis history, the imperious British Lions rampaged on tour and Chris Froome pedaled away with Great Britain's second consecutive Yellow Jersey in the Tour De France
At the time of writing, Australia was even getting schooled in the Ashes.
But, as a life-long Manchester United fan, I'd be lying if all of that won't pale in comparison to what will transpire from 17 August when the Red Devils kick off their first post-Fergie Premiership.
Thinking about new boss David Moyes's challenge ahead – and indeed the remarkable aforementioned sporting glories – it struck me how critical training and preparation will always be to achieving the desired result. Freaks of nature aside, it clearly takes endless, evolving and intense fine-tuning to be the best – not to mention plenty of drilling of the basics.
I'd like to think the same applies to us VARs. Personally, I am totally obsessed with training that can improve our prospects in the market. And I'm a firm believer that this attitude isn't just important for us – it is vital for our entire industry.
Resellers, retailers, VARs and SIs alike must invest in training to consistently ramp up the quality of service offered across the region. This is one of the most tech-hungry parts of the world, and its ability to scale and do business in the most efficient and profitable manner will be hamstrung without access world-class project enablers.
From the outset, we have been strong advocates of going the extra mile in terms of training, particularly when it comes to seeking certifications that enable us to stand out from the crowd.
For example, we have pulled out all the stops to become one of the Middle East's most experienced and capable Symantec partners, one of the main companies we work with.
In 2011, we achieved Master Specialisation in all four Availability specialization areas, namely Archiving and e-Discovery, Storage Management, Data Protection Plus and High Availability. We were the first partner in the region – and are currently the only one in the UAE – to pass the rigorous quality control processes and training steps to achieve Master Specialisation.
Condo Protego is also a Signature EMC Velocity Partner, the highest possible tier of accreditation.
The reason we do this is simple: our clients demand it.
Increasingly, businesses and organisations are willing to pay for quality, and that means VARs that are trained and certified to the gills. Projects are becoming ever more complex and issues like data storage and protection are now integral to day-to-day operations. Quick fixes and corner cutting are, thankfully, starting to become history.
Of course, a hugely positive corollary to training at full pelt – beyond the enhanced ability to do the job and turn a profit – is that it contributes to the long-term sustainability of our industry.
The region's skill shortage is well-known, so companies like Condo Protego and, indeed, our partners need to be world class 24/7 in order to attract and retain the best talent out there, as well as be ready and able to nurture the workforce(s) of the future. All great teams need to be constantly refreshed with new talent; 'players' that are tactically appropriate and able to deliver for the customer when called upon.
Making everything click is undoubtedly hard work, but somebody has got to do it; you're either fit for purpose, competitive and hungry for success or you're irrelevant.  Hopefully, Moysey agrees with me!