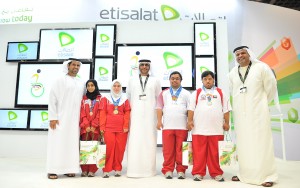 Etisalat recently honoured the UAE Disabled Sports Federation with a cheque in appreciation of the UAE National Paralympics team's recent achievements on an international level, the company announced.
The cheque was presented to Mohammed Mohammed Fadel Al Hamly, UAE Disabled Sports Federation by Ali Alahmed, Chief Corporate Communications Officer, UAE.
Etisalat honoured the UAE Disabled Sports Federation in recognition of their performance in the Special Olympics World Summer Games in Athens earlier this year, and to encourage them for the upcoming Olympics taking place in London next year, Etisalat representatives said.
Commenting on this occasion, Alahmed said, "Etisalat is dedicated to supporting initiatives which engage and encourage all members of UAE society, particularly in sports, where they are represented on an international level."
"The UAE Paralympics team have excelled in their success both on a regional and international level, and this gift is a token of our appreciation for their efforts to put the UAE on the global map when it comes to the nation's Paralympics achievements," he concluded.
Al Hamly, said, "We would like to thank Etisalat for their ongoing support and contribution to the UAE Disabled Sports Federation. Their assistance provides ongoing encouragement to the team and the Federation as a whole, under the vision of our wise leadership to integrate special needs athletes into their community and empowering them to positively contribute to the welfare of their society and to the achievements of the nation."