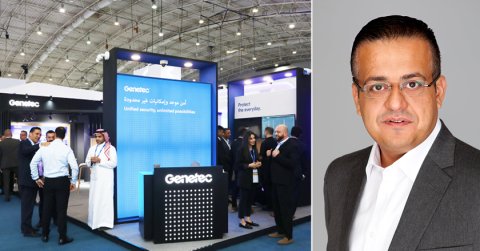 On the side-lines of Intersec Saudi Arabia 2023, Firas Jadalla, Regional Director at Genetec, highlights how security professionals can remain agile in adopting new approaches and tools as digitalisation increases across the Kingdom.
To start, how have you seen the physical security landscape evolve in KSA this year?
It's clear that enhanced security infrastructure is essential to a vision for modernised urban living and a diversified economy. These are driving forces within Saudi Arabia as the country advances towards its Vision 2030 goals. The momentum behind smart city development in KSA has only accelerated this year. You see this in cities such as Riyadh, Makkah, Jeddah, and Madinah, all ranked in the IMD Smart City Index (SCI) list for 2023. When you add projects like Neom and The Line, there's a recognition among both public and private sector leaders that robust physical security solutions for the everyday can provide a more in-depth view of their environments—enabling organisations to quickly respond to and recover from any incidents they may face.
What are some of the insights you've discussed with partners at Intersec Saudi Arabia following Genetec's latest State of Physical Security report?
One thing we've been looking at is how labour shortages are driving demand for unified security solutions. For instance, 50% of respondents in that report said their physical security team experienced human resource challenges last year. Today, security leaders are re-evaluating their technology stack seeking solutions that help streamline tasks, automate processes, and enhance team efficiency.
We also see hybrid-cloud deployments driving demand for cloud-connected appliances. Hybrid-cloud deployments are clearly gaining traction. As businesses rationalise costs, concerns, and approach to cloud migration, we can expect an increase in demand for ready-to-deploy hybrid-cloud appliances.
Moreover, the research shows us that IT and security professionals are looking to invest in cybersecurity-related tools to improve physical security in 2023. In the Kingdom, a more holistic, automated approach to defending against threats is taking precedence today, as is proactive security architecture planning and procurement.
With cybersecurity being such a critical element to national development plans in KSA today, what is Genetec doing to strengthen and differentiate its own cybersecurity posture in the industry? 
One of the things that differentiates us is that our cybersecurity posture is built into the fabric of our business. This is not only to protect our own networks but also as a fundamental design principle in the development of our products. Genetec has a dedicated cybersecurity and security architecture team focused on tracking cyber issues across the industry. Our dedication to continually reviewing the latest technology developments and related cybersecurity best practices ensures that we stay ahead of potential vulnerabilities, integrate updates into our solutions quickly, and uphold the very highest industry standards and protocol.
Genetec has also placed a lot of emphasis on a "unified" architecture approach. How does that add value to a smart city project or to an individual customer?
Over the years, we've observed how organisations were increasingly challenged by analogue and unconnected physical security systems. We also noticed a high level of redundancy with as much as 70% of security functionality common between systems.
In response, we developed Genetec Security Centre, an enterprise security platform designed to unify video surveillance, access control, and automatic license plate recognition functions so they would work as one. This unified platform is a comprehensive software solution that manages the different components of a security environment through a centralised open architecture built to provide complete access to all data.
Importantly, a unified system not only looks like a single system, but preserves the ability to bring on other applications and sensors from other solution providers on to the unified platform. By doing so, unification provides everything security personnel need within a single UI to help them effectively and efficiently protect people and assets. While other companies might also use the word 'unification' as part of their marketing message, no other vendor besides Genetec provides a platform where multiple security products are truly built together as one.
This unified approach is the ideal setup for any smart city project and is already delivering great benefits to our customers locally and abroad.
Genetec also takes a strong stance on privacy. Why do you feel that resonates with your customers locally?
Genetec follows privacy by design methodologies, which means that we develop our products with privacy in mind right from the start. It is our default mode of operation and involves proactively embedding privacy into the design and operation of IT systems, networked infrastructure, and business practices from the first line of code to the third-party vendors selected for partnership and integration. It is a philosophy that customers appreciate in collaborating with us, and again, something that sets us apart in the marketplace.
Whether it is through a unified architecture approach or a strong stance on privacy, I'm very proud of our local Genetec teams who are working every day to ensure people, organisations, and communities in Saudi Arabia and the wider region keep moving safely and securely.