Equinix has announced the opening of its third datacentre in Dubai, as part of the company's efforts to support rapid growth in the MENA region.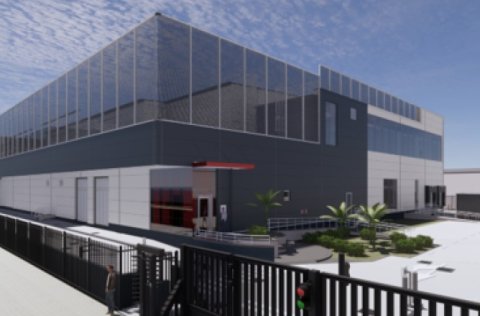 Once fully built out, the new site—which will be known as DX3—will provide 1,800 cabinets of capacity across two phases or a total footprint of 12,000 square meters (135,000 square feet), making it Equinix's largest datacentre in the region.
With an investment of over $60M in the first phase, the building of this new facility reinforces Equinix's commitment to creating and supporting digital opportunities for Dubai and the Middle East.
The Dubai campus, comprising DX3 and DX1 datacentres, is the UAE's regional connectivity hub.
DX3 has been designed with a focus on innovation, which allows efficient power consumption with cutting-edge technologies in cooling, redundancy and scalability. DX3 is planned to be covered by 100% renewable energy.
Equinix's new data center also boasts the largest and strongest ecosystems of digital leaders in the region, including networks, cloud, content distributions, enterprise and financial services, and will be strategically located at the intersection of the world's most dynamic markets in Dubai Production City.
Home to thriving, diverse business ecosystems, Dubai is committed to becoming one of the world's top five centers for trade, logistics, finance and tourism and has made itself one of the world's preferred investment destination for foreign capital.
Equinix's digital infrastructure enables local businesses to take advantage of growth opportunities and supports global organizations seeking access to the UAE's expanding digital economy.
The Middle East data center construction market is expected to grow at a CAGR of 7.59% between 2022 and 2028,[1] and the UAE is one of the main contributors of this capacity growth as the country strives to double the contribution of the digital economy to the UAE's GDP by 2032.[2]
Equinix's expansion in the UAE promises to unlock opportunities for businesses pursuing growth and innovation in the country, while furthering the UAE's position as a hub for digital economy in the region and globally.
"Equinix is committed to building a more sustainable digital future for all and is already the beating heart of the UAE's digital economy. DX3 is poised to facilitate connectivity and accelerate digitalization across the region, and we will continue to play a role in enabling the country to achieve its digital potential and provide organizations in the Middle East with an all-new platform for digital transformation, innovation and growth," Said Kamel Al-Tawil, Managing Director, Equinix MENA.
News of the new data center follows Equinix's recent announcement about the enhancement of globally connectivity with Equinix Fabric®, an advanced software-defined interconnection
[1] https://www.reportlinker.com/p06446257/Middle-East-Data-Center-Construction-Market-Industry-Outlook-Forecast.html?utm_source=GNW