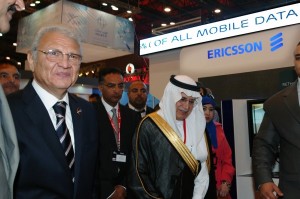 Ericsson used Cairo ICT 2013 to reveal the city's position in this year's Ericsson Networked Society City Index report, which analysed the levels of ICT-driven benefits created in some of the largest cities across the globe.
During the event at the Cairo International Conference centre, Ericsson also revealed its solutions that focus on delivering a differentiated customer experience.
Visitors were able to witness LTE's potential as part of a live demo at Etisalat Egypt's booth using Ericsson's technology. During the demo, participants experienced high-speed internet of 150 MB per second allowing them to download large files such as videos in seconds.
"We consider Cairo ICT 2013 as an excellent platform to engage with our partners within the ICT industry and discuss key and important developments of this sector in Egypt," said Isil Yalcin, President, Ericsson North East Africa.  "This year we decided to focus on customer experience as we believe that Egyptian mobile subscribers' demands are increasing rapidly every day and our role as a leading telecom provider is to offer the best services and solutions to local operators to meet those demands."
Ericsson also displayed several of its latest solutions at its booth addressing the question of how to rethink coverage with smart cells, a new solution to enhance in-door coverage in congested areas Ericsson's latest solution in this area is the Ericsson Radio Dot system that was revealed at the event.
Ericsson claims the technology enables mobile operators to deliver consistently high performance voice and data coverage and capacity in the broadest range of enterprise buildings and public venues, including the underserved, high growth, medium-to-large building and venue category.