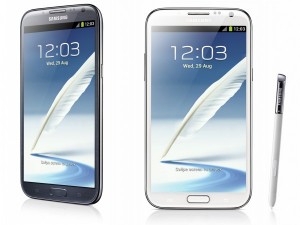 Is there really any need for a touch-screen phone with a 5.5-inch display? Plenty must think so, given the sales figures for Samsung's Galaxy Note smartphones. The first one, launched in 2011, sold over 20 million units in its first year, and the Note 2 had reportedly sold 10 million by the end of 2012, outselling both the iPhone 5 and its little brother, the Galaxy S3.
The sales figures are surprising, because at first glance, the Note devices seem far too big to be taken seriously. Based on the Note's size alone, you'd think that it was simply a comedy 1990s-style phone, and certainly not one of the hottest gadgets of the moment, which is, apparently, what the Note 2 is.
Sure, it's meant to fill a gap between the seven-inch tablet and the standard all-touch smartphone market, with some calling it a phablet. But the problem with phablets is that they're certainly too small to offer anything like a tablet experience, and they're so big and cumbersome that it seems like too much effort to use them as phones. So, again, why do people think that they need a 5.5-inch smartphone?
To be honest, the Note 2's size only seems to be a problem upon first opening the box. Play around with the phone for an hour or two, and the screen size becomes normal. The body is light and thin, and the AMOLED display is so stunning that it's a joy to look at for hours on end. Indeed, after a week's use with the Note 2, normal-sized smartphones appear just too small. iPhones, in particular, seem positively microscopic in comparison.
But perhaps it's not the size that counts – Samsung has packed a whole load of features into the Note 2, which partly explains why people are so keen to get their hands on it. From the fabulous S Note (more on that later) to the wireless charging capabilities, there are scores of tools at a Note 2 user's disposal.
What's more, the Note 2 is seriously fast. It packs a 1.6 GHz quad-core Cortex A9 processor and 2 GB of RAM. Running the Android 4.1 Jelly Bean OS, this translates into smooth, effortless operation, with every touch being registered within a microsecond. The 4G LTE variant is yet to hit UAE shores, but HSPA+ ensures fast enough browsing most of the time.
In terms of storage, users get up to 64 GB on board, with the capability of adding 64 GB extra with a microSD card. To be honest, there's no point spending the extra money for the on-board capacity, as microSD cards will provide all the capacity that'll realistically be needed.
The back-side camera is Samsung's 8.0-megapixel unit, which has already seen service on the Galaxy S3. It comes with an illuminated sensor, LED flash and 1080p HD video shooting at 30 fps. The focal length is 3.7 millimetres, with aperture at f/2.6. On the front, there's a 1.9-megapixel camera for video chatting, Facebook-style self-shots and 720p video recording. It's not brilliant, but it will do the job just fine.
What really impresses are the functions of the main camera. Users get a tremendously good autofocus, zero shutter lag and a very cool – but not entirely useful – feature that allows for the simultaneous recording of video and audio. The smile and face detection software is eerily accurate, and the controls are laid out logically and sensibly. Certainly this is one of the best cameras to be fitted to any Android phone.
But what everyone wants to know about is the S Pen, Samsung's pressure-sensitive stylus that tucks neatly into an enclave in the back. Slightly thicker than its predecessor, it feels meatier and less like a cheap piece of plastic. That said, it still feels nothing like a real pen, so it'll take some getting used to for many people.
Even so, playing around with the S Pen is a fantastic way of passing the time, particularly with S Note. In this app, it's possible to draw pictures, write notes, or even construct diagrams with ease. The handwriting recognition software is top-notch, translating every scribbled letter into a digital piece of text that can easily be emailed or shared. Like Samsung says with its ad campaign, creative people will love it.
The stylus has plenty of other uses, too. For example, Air View allows users to preview content by hovering the pen over a thumbnail or icon. It's reminiscent of the way in which Windows 7 for desktops displays previews for open apps whenever the mouse is hovered over the icons on the taskbar. It's a useful feature on a phone, as it will give more clues as to whether or not that email or text message is actually worth checking.
Perhaps not quite so useful is the so-called Quick Command function, which allows users to give a number of commands by using simple swipes. While some of them are cool, and certainly work well, it takes a lot of effort to learn all of the movements, meaning users will likely do things in the traditional way. What's both cool and useful is the ability to switch between apps at the touch of button, treating them more like windows than most phones do.
The 3,100 mAh battery is something of a revelation. Even on the smaller, less-powerful Galaxy S3, the battery life leaves much to be desired. But with the Note 2, it's possible to get two whole days of relatively heavy use in between charges. In smartphone terms, that's a sensation.
The same could be said for the phone as a whole, to be honest. The quality of the package is second to none in the Android world – the features are intuitive and inventive, and there are no bugs that we could find. What's more, having such a big screen really does begin to make a difference – it just makes general use that much more enjoyable.
So, going back to my original question, is there really any need for a touch-screen phone with a 5.5-inch display? No, you certainly don't need one. But there's every reason why you should want this one.