The UAE Exchange and New York University Abu Dhabi (NYUAD) have joined forces to advance fintech innovation in the UAE.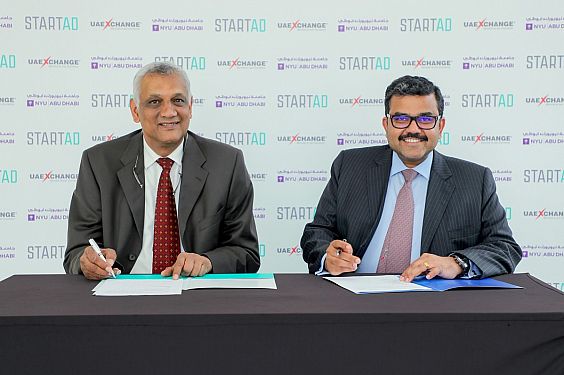 The signing of the Memorandum of Understanding (MoU) will see NYUAD provide its entrepreneurship platform, startAD, where it will catalyse early stage start-ups with literacy and tools to develop a scalable, repeatable and efficient venture.
startAD seeks to leverage corporate engagement partnerships as a means to nurture truly innovative start-ups in the Middle East. Through its "Corporate Mentorship" programme, qualified start-ups are provided the opportunity to engage with corporate entities in the UAE across their respective industries so as to benefit from their expertise to commercialise offerings.
As a "corporate mentor" for fintech initiatives, UAE Exchange will work closely with NYUAD to equip qualified start-ups with the necessary market knowledge to validate and test their potential solutions.
"As a home-grown brand we are committed to the growth of digital innovation and entrepreneurship in the UAE," said Promoth Manghat, CEO of UAE Exchange Group. "Our tie-up with NYUAD for the startAD initiative reaffirms this commitment. We see startAD as a platform that will foster a culture of innovation in the UAE and help attract phenomenal talent."
NYUAD associate vice chancellor of Finance and Operations, Peter Christensen, added: "NYU Abu Dhabi is committed to contributing to the growth of Abu Dhabi beyond traditional higher education. The collaboration between the leading global remittance brand UAE Exchange and startAD will empower the best technology driven start-ups to scale and create significant impact for Abu Dhabi and the UAE."