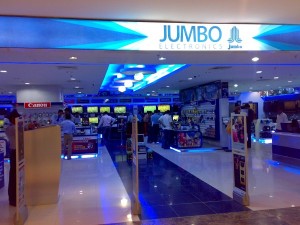 UAE electronic retailing giant, Jumbo, is set for a record breaking GITEX Shopper with sales already up by over 35% following the first two days of the event.
"With a sales hike of 35% already over the first days of GITEX Shopper, we are confident that we will surpass all previous sales and make this the biggest GITEX ever for Jumbo Electronics," said Vishesh Bhatia, CEO, Jumbo Electronics.
"It is clear that the move to the World Trade Centre and its easy Metro access has helped increase overall visitor numbers and this has helped further boost overall sales."
The company pledges that customers who visit the Jumbo stand at GITEX will benefit from bundle offers and free products across its entire range.  Smartphones, tablets, laptops and Sony TVs are already proving particularly popular.
"The great offers we have for the public are driving our sales increase and we have found in particular that Apple tablets, Samsung phones, Sony Vaio laptops and Sony TVs are among the most popular products to date."
Among the great value deals on offer are a highlight offer on Ultrabooks that comprises the free bundle of a Tablet, 500 GB portable hard drive, Office software, Internet security software, Headset and Mouse that offers tremendous value to consumers.
On smartphones, the free bundle is a DVD player, Backpack, and portable on the go charger. Over and above all of the free bundles is a 500 dirham Sony voucher which makes the offers at Jumbo absolutely the best in the market.
Additionally Jumbo is offering a free bundle on Apple iPads of a Sennhieser head set, Scoche portable speakers, Carry case, and screen protector. Jumbo says this proving to be a fantastic hit and amongst the greatest offers this GITEX.
Vishesh Bhatia added: "We believe that this year's value packed free bundles and offers make it the best year ever for our customers at Gitex with simply the best offers in the market available not only at Shopper itself but at our network of 23 stores across the UAE."