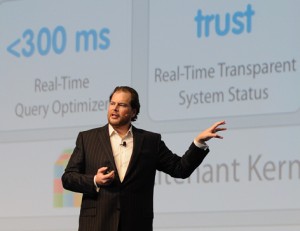 With more and more businesses moving into the cloud, trust is the most important ingredient to success, says Marc Benioff, CEO at Salesforce.com.
Benioff gave his views on security today at the RSA Conference 2012 in San Francisco.
"When you're a cloud provider like Salesforce.com, trust is our number one value. Nothing is more important that the trust that we have with our customers. A critical part of that trust is the security infrastructure," he said.
As well as trust, Benioff pointed to transparency as a vital part of running a business in the digital generation.
"The two things I constantly focus on are trust, which is a level of openness with your users and customers that everyone in the organisation has to get to a higher level, and transparency – everything that happens has to be an open book, no secrets. That's the critical part of trust," he said.
"I think that there is no finish line when it comes to security. We all know that, we're holding it all together but it's a highly dynamic and rapidly changing environment and we have to pull all that back together again. Because there is no finish line with security, trust is the most important thing," he added.
Benioff also referred to mobility and social media as attributes affecting the IT industry today.
"We are going through a massive transformation in our industry and that transformation is this move to the world being more cloud, but also being a lot more mobile and social," he said.
"For me, what social means is everything deployed a lot faster. You just see that events happen and things spread and consciousness happens rapidly. Things are also a lot more open and transparent," he added.
Benioff drew upon recent high profile examples that exhibit the powerful influence of social media.
"Things are more collaborative. Individuals who maybe did not have a platform for empowerment and excitement are getting that now. A lot of that we have seen and a lot we have not seen. You saw it with the Occupy movement where they were able to coordinate their activities through the social paradigm," he said.
"Not just leaders, but also leaderless organisations like Anonymous and Occupy and others, who are empowered and enabled to get creative in the social paradigm. The power of all that together is transformational to the youth of society, but also in our businesses – what the social enterprises and companies have to learn now is how to become new kinds of organisations with these new tools," he added.
Sub editor, Ben Rossi is reporting live from the RSA Security Conference, 2012 in San Francisco. For live tweets from the event, follow @ComputerNewsME and #RSAC.