Held in Prague, Czech Republic, EMC's annual CIO Connect Summit delved into the continuously evolving IT industry and how technology chiefs can redefine the IT agenda.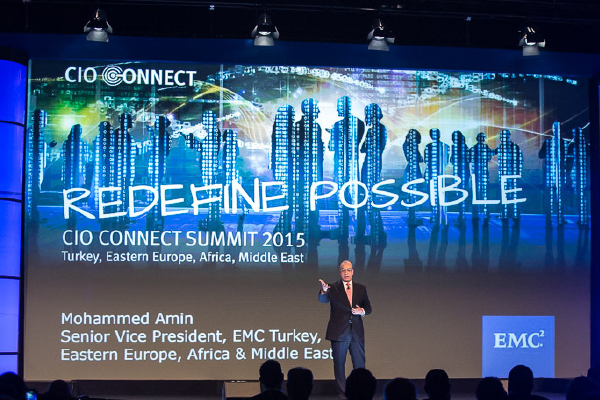 "The IT industry is going through a very interesting time," opened Mohammed Amin, SVP, Turkey, Eastern Europe, Africa and Middle East, EMC, as he kicked off the annual gathering with his opening keynote address.
With the theme "Redefine possible" the summit event gathered over 100 CIOs and senior IT professionals from key industry verticals across the region as IT roles and responsibilities continue to evolve to unlock greater enterprise value.
Amin's presentation highlighted various opportunities ahead for IT leaders to transition into the role of strategic CIOs so as to provide an agile and contemporary mix of services. He elaborated, "During the first few years of my career in the industry, IT was seen as an enabler for business.
"But today IT is no longer just an enabler for business growth. It has become the business itself," added Amin.
Amin encouraged the attendees to redefine their IT agendas to meet business objectives and enable their transformation journeys to become genuinely software-defined enterprises, leading to greater business agility and efficiency.
EMC highlighted two trends that they believe are key to coping with software-defined transformation – 2.5 Platform and hybrid cloud. "A lot of IT functions are relying on apps today," Amin said. "However, as the industry grows, so does the infrastructure needed to support these apps. The 2.5 Platform is the way to move forward."
Businesses will soon require more applications that are faster and more agile to sustain their IT needs. EMC expects the 2.5 Platform to get companies ready to smoothly transition to the third generation platform.
"Many organisations are still hesitant to utilise the public cloud, so we see a lot of companies moving towards the private cloud," Amin continued. "Many of them will be building these private premises that will cater to their specific needs. However, they will still need to store some of their data off-premise, so this is where hybrid cloud comes in."
With their Federation Enterprise Hybrid Cloud, Amin said that EMC is highly capable of assisting customers in adopting this solution. This EMC offering can provide the operational and financial control, and visibility that IT organisations need from both private and public clouds.
Amin also underlined the rise of the Chief Digital Officers (CDOs), "Previously it was imperative that IT chiefs were knowledgeable of the technical side of IT. But today, as organisations begin to look for CDOs they're expected to understand aspects such as finance, marketing and business development strategies."
During the course of the event, other speakers including John O'Callaghan, Senior Director, EMC Executive Briefing Programmes, EMEA; and Kennedy Brown, EMEA Director Enterprise Marketing, Intel, among others, shared best practices on the application and deployment of the software-defined data centre, and of cloud, flash and Big Data technologies within a range of industries – all enabling IT to achieve the agility, scalability and efficiency that businesses are in constant need of today. It also featured an exclusive session by Stephen Attenborough, Commercial Director of Virgin Galactic.
The EMC CIO Connect Summit 2015 acted as an insightful platform for IT leaders leveraging EMC technologies to exchange knowledge and expertise as they seek to redefine the IT agenda and business processes, and to drive competitive differentiation and performance enhancements.