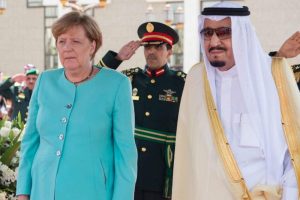 SAP has announced a plan to build a public cloud data centre in Saudi Arabia in collaboration with the Ministry of Communication and Information Technology, with the agreement being signed in the presence of King Salman Bin Abdulaziz Al Saud, and German Chancellor, Angela Merkel, who was visiting the Kingdom on a trade mission. 
A $75 milllion investment will happen over a period of four years, with the Cloud Hub comprising of four key pillars.
These will include the establishment of a public cloud data centre in the Kingdom; an open platform for local developers; a co-innovation centre to support Saudi startups and customers from both large enterprises and small- and medium-sized enterprises, and further localisation of SAP solutions to support Saudi's economic diversification goals and government investment.
As part of the announcement, the Ministry of Economy and Planning and Ministry of Communication and Information Technology, represented by the National Digitisation Office, will work with SAP to explore integrating the SAP Cloud Hub into the planned government cloud.
"Saudi's public and private sector organisations need to adopt latest technology innovations to enable new digital business models and enhance the Kingdom's economic competitiveness," said Deema Al-Yahya, acting head of the National Digitisation Office. "In a digital economy era, more public-private partnerships and co-innovation are crucial to fuel a diversified economy and spark the next wave of Saudi talent and entrepreneurship."
SAP claims it will be the first international software provider to launch a public cloud hub in Saudi Arabia by end of 2017.
"With the SAP Cloud Hub, the Kingdom will accelerate government-led digital transformation and diversified economic growth," said Ahmed Al-Faifi, managing director, SAP Saudi Arabia, Bahrain, Yemen. "SAP is leveraging global best practices in supporting the Saudi government and organisations of all sizes and industries to use secure, localised cloud solutions to simplify operations, cut costs, and drive agile business models, and unprecedented collaboration."