Deputy Editor Giorgia Guantario sat down with Mohit Davar, MENA Director and Co-Founder at Huobi who explained Huobi's growth, the need for regulations in the industry and why Facebook's Libra is actually a great idea.
First of all, can you give us an overview of Huobi?
Huobi was set up about six years ago by our founder Leon Li in Beijing. At the core, it's a global trading platform; we have offices in Beijing, Singapore, Japan, Korea, US and now Dubai. We have 250 tokens to trade, such as Bitcoin, Ethereum, Ripple etc. If we take a wider look though, Huobi is much more than just that. Everything is geared towards raising Blockchain awareness – we have a research institute, a university, a capital fund which invests in other Blockchain companies, and we just launched our public chain.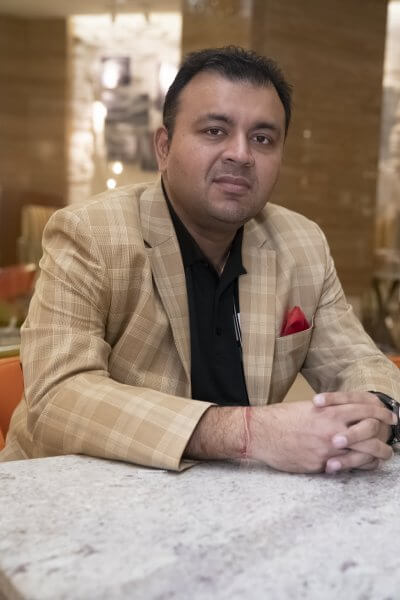 We set up the Huobi MENA office in Dubai late last year to promote our business in the MENA region. At the moment we have about ten people in our Dubai office, we are licensed by DMCC and we are applying for a few other licenses. At the core we're a token to token platform, but we want to get regulated and open bank accounts to enable people to buy fiat to token. I think what really differentiates us is the local approach we have adopted – no other exchange has the presence we have in the Middle East, we are the only ones who are getting closer to the customer.
Last month Huobi announced it had open-sourced the development of its Huobi Chain blockchain. What does Huobi hope to achieve from this?
Houbi Chain aims to enable enterprises, financial institutions, and exchanges to deploy their own blockchains, tokenised assets, and decentralised financial (DeFi) services. By using our chain- technology, we are going to connect our business partner, customers together tightly, making an open finance market.
Huobi has recently entered the Turkish market, and at the time you emphasised the importance of operating in compliance with local regulations. Why is this aspect so important?
I think regulations are fundamental to both to give us a framework as an operator, and to give consumers faith in the institution. Turkey is a very interesting market – there aren't regulations in place yet, but they have come out with an aggressive Blockchain agenda for government services. The interesting thing is that about 20 percent of Turkish population has access to crypto. We started in Turkey in mid-2019 and we are about to launch our fiat, which will mean we'll have a bank account to basically transfer Turkish lira and buy crypto. Our main goal is to work with stakeholders in the market – I strongly believe that regulation is what the industry really needs to give it the credibility that it deserves, as well as promoting innovation. The problem is that when there's no regulation, people are left to their own risk appetite and view about the industry. Whereas if a central bank comes up with a framework, it brings that level of comfort to actually provide banking services – and we really need banking services to make crypto accessible to everybody.
According to Statista, Turkey is one of the main adopters of cryptocurrencies in the world, however other Middle Eastern countries don't see such high adoption. What do you think is the current state of the cryptocurrency market in the Middle East?
It's definitely evolving, and we always try to understand why some countries see higher adoption than others. Taking Turkey as an example: the population is very young and the Turkish lira is very volatile, so they feel more comfortable edging themselves against that – we even joke sometimes saying that Turkish lira makes the Bitcoin look quite stable. Moreover, the Blockchain community is very active, which is also promoting this higher adoption. In the rest of the Middle East this is still evolving, but many countries have taken a very proactive approach towards Blockchain – the UAE for example has a huge Blockchain agenda with Dubai Blockchain Centre and the government's own agenda; the Central Bank of Bahrain has actually come up with regulations to license exchanges, becoming the only country in the Middle East where a central bank has come up with regulations; Oman came out with a crowdfunding platform on Blockchain. I believe we are going to slowly see more regulators engaging with crypto, meaning people will be more comfortable with it – the future looks very encouraging.
Cryptocurrencies have gained new momentum this year with Facebook's Mark Zuckerberg announcing Libra this past June. However, he has faced increasing pressure and challenges from US regulators, who even called it a "powerful burglary tool". What are your thoughts on the matter? Do you think Zuckerberg's idea to create a "stablecoin" would actually work?
I was a huge fan of Libra, I thought it was a fantastic idea. I don't think it was anything unique in terms of stablecoin, but it was in terms of the people that sat around its table – Visa, Mastercard, Paypal, to name a few. They have obviously all ran away now, but to see them engage with it was very exciting. I believe there are two reasons it went wrong. One was bad timing – Facebook was and is still considerate toxic. The second problem was that it wasn't a regulated entity – maybe if Visa or Mastercard came up with it, they would've had a different feedback. But as I said, I really liked the idea. Anything that promotes financial inclusion and drives the cost of cross border remittances down is a fantastic thing. The buzz and awareness it created is also very encouraging. It's all part of the journey to bring crypto into the mainstream. The goal is to have mainstream retail transactions, but to do that we'll have to come up with some form of stablecoin – the volatility of the current crypto market doesn't lend itself to buying goods.