Mohammed Arif, Modern Workplace & Security – Regional Director at Microsoft Gulf, discusses the impact Microsoft's new data centres will have for enterprises seeking to achieve digital transformation – and outlined the benefits of businesses becoming 'more digital'.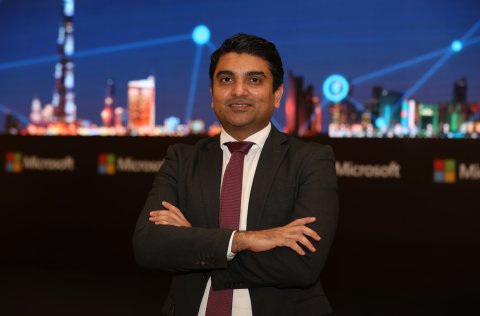 Microsoft have launched their first ever data centres in the Middle East in the UAE. Can you explain to us how these new data centres will help enterprises become more digitally efficient and secure?
We launched Microsoft Office 365, many, many years ago across the world, and we've had rapid adoption. We've now got millions and millions of customers globally. Our cloud services basically enable enterprises to become more efficient, and there has been an incredible adoption of cloud services over the years. However, some specific industries have more rigid requirements when it came to compliance surrounding data residency.
For example, in the public sector, or the financial services industry, there is a need for that data to be housed and stored within the country. We've been receiving feedback over the years from customers', who have repeatedly expressed their desire to have data stored within the country as opposed to it being hosted overseas.
We took that message onboard and decided to invest in building data centres within these countries, so that the same customers' can still leverage the power of the cloud. However, now get to tick one box that they always wanted, which is that the data resides in the country, and that's what the data centres will really help with. On top of this, we're really hoping that customers avail of the chance to use our platform to do all the creative and innovative things they need to do by leveraging disruptive technologies like AI.
The UAE is very progressive and forward-thinking in terms of its approach to technology. How are the establishment of these new data centres going to help the government achieve its AREA 2071 objectives?
I think the speech delivered by H.E. Omar Al Olama, the UAE Minister of AI, was phenomenal. He really emphasised the importance of focusing on the fact that we need to 'think bigger'. He echoed the comments made by our General Manager, who posed the question of whether customers really wanted to invest all the time and energy into building private data centers using commodity hardware – versus the option of assigning the task to a large hyper-scale cloud vendor like Microsoft, which ticks all the boxes when it comes to security compliance.
This ultimately allows our customers to focus their time and energy on building other things that are more valuable to the business. We can help them empower their own workforce to be more creative in a bid to better serve their own end-users. I really think this is what the data centres are going to enable businesses to do. For example, if you look at the public sector, data centres are going to allow them to leverage the cloud, which in turn will help them to remove a lot of the effort, time and focus in terms of managing their own infrastructure.
You've already highlighted the importance of data residency to many organisations in the UAE. How are Microsoft going to ensure their data is safe and secure?
We've got over 100 data centres across the world, and they're all built on three key principles. The first principle is security. We want to ensure that anyone who entrusts us with their data is comfortable in the knowledge that it's in the most secure place possible. The second principle is privacy, and it really is an important topic for us, as a company, we want to ensure that we respect the privacy of our customers as well as our customers' customers.
The third principle is compliance. We are wholly committed to ensuring that we meet all the global and local privacy standards. One major announcement we made recently was we're now the first cloud vendor to be certified by the Dubai Electronics Security Center (DESC).
That really enables the public sector to come to us, and say we want to leverage Microsoft Office 365 or Azure, because I know that it's certified by DESC. The Microsoft data centres are enabling the private sector to finally leverage the power of the cloud in a compliant and secure manner.
Can you outline to us what your primary roles and responsibilities are at Microsoft?
I must admit that my role is quite exciting, as I get to lead what we call the modern workplace and security business. Essentially I get the opportunity to speak directly to customers and partners about how they can be more productive, efficient and more secure in the way in which they work using the latest and most innovative technologies. This includes technologies like Office 365, Windows 10 and our Enterprise Management Suite. It's my responsibility to help our customers and partners to work much more productively and securely.