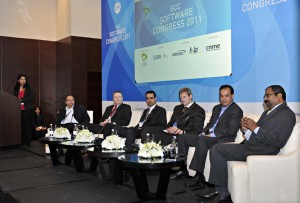 The second annual GCC Software Congress 2011 brought together multiple stakeholders from the IT industry to discuss the interlinking nature of business and IT strategy, and the future of software creation, delivery and adoption.
On the 27th of this month, CNME conducted the second annual GCC Software Congress 2011. Following the success of the first Software Congress, the event brought together eminent speakers from large organisations to talk to a gathering of CIOs and senior IT decision makers from the region to discuss information technology and business strategy today and going forward.
Dr Hazem Turki El Khatib, CIO of the Department of Finance in Abu Dhabi delivered the first keynote of the day, focusing on the ways to communicate the business value of IT.
"The mission, vision and value of an IT department plays an important role in expressing the business value of IT. IT objectives have to support the business and IT risks have to be controlled. You can no longer just be a technology provider, and have to evolve into a strategic partner. IT has to play a dual role of strategy management and service management," said El Khatib during his presentation.
"Business priority and business value are oppositely directed. Use the IT services catalogue to start connecting IT processes to business processes; process knowledge is key to agility and business transformation. The Department of Finance has an integrated strategy, combining business and IT strategy," said El Khatib.
El Khatib was followed on stage by Deepak Kalra, Group IT manager of Safeer Group who spoke at length on how IT managers can win with technology choices.
"IT decision makers should follow their own methodologies about technology – they know their business best. Choose mature, tested technologies over new ones. When implementing a technology it is important that one is practical and realistic. You have to implement only as much as you can digest; phase one of all implementations must involve as little customisation as possible," said Kalra.
Kalra also suggested that enterprises choose vendor partners who can logically defy them, and warned them from falling for a big bang approach with deployments.
Carel Badenhorst, head of the technology practice at SAS ME followed Kalra on stage to discuss data management and managing the information lifecycle in enterprises.
"Derivation of intelligence from data is a never-ending saga. Organisations will need to standardise on a data management platform, since data silos are one of the biggest potential barriers to co-ordinating multiple data management practices. Organisations are sitting on data gold mines, and approach intelligence intelligently," said Badenhorst.
Virtualisation and application compatibility was the topic of choice for Ahmed Al Hammadi, manager of product marketing, eHosting at Etisalat. He spoke at length on the advantages that virtualisation brings to the table for enterprises, and how Etisalat, as a major service provider in the UAE, can help companies benefit with the technology and its implementation.
The panel discussion, which was the concluding session of the day, brought together all the speakers of the morning, along with Rolf Eleveld, director of information and software development at the Jumeirah Group and Arun Tewary, CIO of Emirates Flight Catering to discuss the changing nature of software, and how regional organisations can recognise and respond to these changes with better investments to achieve higher profits.
Most of the panellists agreed that many of the major changes in the next few years will be visible in the form of changing patterns of software delivery. In other words, most of the discussion centred around cloud computing, and brought together conflicting views on how and whether the cloud can live up to all the promises that it makes.
"Organisations in the region are trying to leverage software as a commodity model. To do the same organisations have to achieve a clear understanding of the underlying enterprise architecture. We have taken a similar initiative at the Jumeirah Group," said Eleveld.
Talking specifically about the cloud as a way to achieve IT optimisation and lower capex, El Khatib and Tewary expressed their doubts about the usability of the cloud for Middle East enterprises at the current maturity level.
The CIOs on the panel also generally agreed that the cloud is feasible only at the infrastructure layer, but not at the application layer.
Ramesh Krishan Bhandari, business development specialist – business solutions, central marketing at Etisalat countered, "SMBs are more likely to be the early adopters of cloud solutions. Enterprises will get there eventually. Like any new technology, the maturity for cloud will build up over time, and the application stack for the set of technologies will also increase. This will enable more enterprises to adopt cloud more easily, but this will happen over time."
Bhandari assured that Etisalat is constantly working on improving its services, and can already offer cloud services assuring many parameters from data transfer and security for most organisations in the UAE. He also stated that customers should form SLAs with service providers after understanding full well what their needs are and which parts of the network or the applications they need contractual agreements on.
Software Congress 2011 brought together several IT decision makers and CIOs from the UAE, who participated throughout the event and contributed with their thoughts one everything from IT strategy to cloud adoption. The event was sponsored by Etisalat, SAS, SonicWall and helpAG.