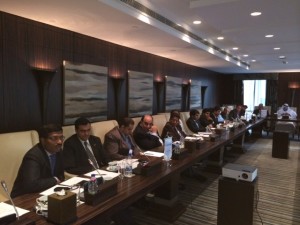 Dubai Computer Group (DCG) concluded its first DCG-Disty Symposium last week at the Capital Club Hotel in Dubai.
DCG was represented by the board members and working committee members. Distributors from companies such as Asbis Middle East, Redington, FDC, Mitsumi, Logicom, BDL Distribution, Jumbo, MES and Trigon were present for the session and also had their finance and credit teams attend it.
Suchit Kumar, Working Committee Head, DCG, made the opening remark and introduction followed by a brief on the group by Dharmendra Sawlani, General Secretary, DCG.
Sponsoring the event, Khalaf Al Otaiba, Chairman, DCG made the welcome note. And Shailendra Rughwani, President, DCG gave the keynote address.
The forum discussed at length the issue of support to the channel business and the issues that are reflected by the retail segment. One of the major issues being runaways from the reseller community, the distributors and DCG members have decided to have the finance team meet bi-monthly or quarterly and exchange information and views to avoid this on a preemptive basis. Each distributor will host this meet on a rotation basis and will be organised by the DCG team.
Distributors also assured that they will in future insist to the channel to become DCG members and a DCG Certificate will be asked along with other bank details for credit approvals, which is further expected to help.
Sawlani also briefed the forum on the new planned website and how it will be made effective to ensure it becomes a business platform. The forum also discussed on the future programmes.
"DCG, in its endeavor to enhance the IT Industry in Dubai, recently organised a DCG-Disty Symposium on April 2nd where various issues pertaining to the IT market in Dubai were discussed. The distributors unilaterally agreed to fully support the DCG Members. The Symposium ended with a broad agreement to have more cooperation between vendors, distributors and DCG Members," said Rughwani.