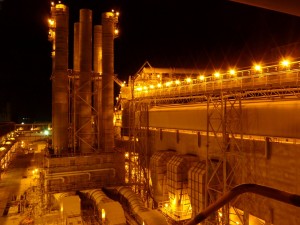 Emirates Aluminium Company (EMAL) is set up to increase the efficiency and improve the quality of its production with the support of cutting-edge SAP software solutions.
The multifaceted software suite will enable EMAL to build on its formidable reputation as one of the largest and most productive single-site aluminium smelters in the world, with a future annual capacity output of 1.3 million tonnes, SAP said.
EMAL was established in 2007 as a strategic joint venture between Dubai Aluminium Company (DUBAL) and Mubadala Development Company (MUBADALA) and has grown to achieve remarkable success, supplying 280 clients in 36 countries.
Since 2008, SAP has served as a strategic partner with EMAL to achieve end-to-end visibility in line with best-in-class business practices, enabling informed and swift decision-making and sustainable business models to ensure business longevity, the company said.
Phase two of the collaboration will see SAP expand the scale of its business software solutions as EMAL seeks to increase production, enhance quality of product and achieve greater customer engagement, representatives added.
SAP's digital input, which is set to include the latest in mobile enterprise technology, will also enable EMAL to seamlessly add another 1,000 employees to its 2,000-strong workforce, it was reported.
SAP recently awarded EMAL a Customer Centre of Expertise (CCOE) Certification Award for its unerring commitment to the continuous improvement of operational efficiency, quality management and the optimisation of business processes, which has resulted in increased business value and protection of EMAL investments.
The CCOE acts as ahub for functional collaboration between EMAL's business departments and its ICT group, and between EMAL and SAP. This increases the transparency of business processes, and has proven to reduce total cost of ownership.
EMAL's dedication to operational excellence also saw it win top prize in the Medium-Large Implementation category of therecent SAP MENA Quality Awards, which celebrate customers that use SAP Quality Principles to effectively manage software implementations marked by multifaceted technical and business process requirements, excel in execution and deliver significant benefits, and achieve fast, low-cost implementations to accommodate today's demands for rapid realisation of return on investment.
The award was presented in Abu Dhabi last week during the Middle East and Africa (MENA) leg of the SAP World Tour 2011, which featured a keynote address by SAP Co-CEO Bill McDermott.
"EMAL's achievements over the past four years have been remarkable. EMAL as a global player in the aluminium market is now a reality, but we will not rest on our laurels. At EMAL we invest today to reap the benefits tomorrow and continually look for improvement. To serve our customers we need to look to the future and ensure we meet their needs. That is what drives us as a business," said Saeed Fadhel Al Mazrooei, EMAL president and CEO.
Sam Alkharrat, SAP MENA MD, said,"EMAL is an inspirational company with a vital role to play not only in the future development of the UAE, but also across a host of industries on the global stage. SAP is proud to play a part in a visionary commitment to greater transparency, efficiency, productivity and business integration that is truly world-class."