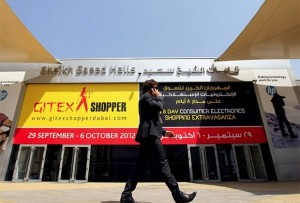 GITEX Shopper was officially opened yesterday by His Highness Sheikh Majid Bin Mohammed Bin Rashid Al Maktoum, Chairman of the Dubai Culture and Arts Authority.
The region's most anticipated shopping event is the largest consumer IT and electronics show in the Middle East and runs until Saturday 6 October at the Dubai World Trade Centre.
Tens of thousands of excited shoppers thronged the halls on the first day of the show, taking advantage of the fantastic deals on over 30,000 different gadgets and consumer electronics from more than 120 participating exhibitors.
Deals range on almost everything from the latest TVs, smart phones, tablets, and digital cameras to household appliances, gadgets, games and entertainment accessories.
Day one saw visitors enjoying the fun festival atmosphere at the event, with music, street dancers, DJs and competitions worth a staggering AED 50 million to reward lucky shoppers.
"We are honoured to have H.H. Sheikh Majid Bin Mohammed Bin Rashid Al Maktoum conduct the official opening of the show today and lend his support to GITEX Shopper. GITEX Shopper offers the ideal platform to keep abreast of the world's new launches, top trends and innovative advances," said Trixee Loh, Senior VP, Dubai World Trade Centre (DWTC), organiser of GITEX Shopper.
"Our exhibitors have put together an unbeatable range of products and special offers, and with the ultra-convenient central location of the show this year, we are expecting GITEX Shopper to break new records," Loh added.
GITEX Shopper 2012 has attracted the world's top technology brands, many of whom are first time stand-alone participants. These include Acer, Asus, Ferrari Headphones, HTC, LG, Nestle, Toshiba and Western Digital. In addition, top consumer brands such as Bose, Canon, Dell, Epson, Fujifilm, HCL, HP, Intel, Lexar, Nikon, Nintendo, Samsung, Seagate and Toshiba will be showcasing their latest products and offering exceptional value across the board.
"We will be showcasing an array of advanced technologies and innovative products during the show, and are particularly pleased to reveal 'the Ultimate Display': LG's OLED TV, the world's largest and slimmest OLED TV, a significant step in the advancement of display technology," said D.Y. Kim, President, LG Electronics Gulf.
Top regional distributors and power retailers, including Al Falak, Al Sayegh, CompuME, E-City, Emax, Etisalat, Geekay Games, iSTYLE, Jacky's Electronics, Jumbo Electronics, Plug-Ins, Sharaf DG, Tarsam, Touchmate and V.V. & Sons enjoyed overwhelming success on the opening day with crowded stands, excited customers and bumper sales.
Asad Sayed, Business Manager at Banian FZCO, the exclusive distributor for French tablet brand ARCHOS said: "This is our first year at GITEX Shopper and we are thrilled to be showcasing some exciting new tablet ranges from our partner ARCHOS. With the recent upsurge in the tablets sector, we thought it is important for us to tap into this growth via the show. ARHCOS's latest range of tablets, the ARCHOS Gen 10 101XS is the slimmest tablet in the world and comes with a magnetic keyboard. Its very first shipment in the world is available at the show."
Neelesh Bhatnagar, CEO of Emax, added "GITEX Shopper is an excellent platform to connect with our customers and offer the latest technology products at the best prices. At this year's show, we are bringing two new lifestyle accessory brands to the region for the first time. In addition, we will be showcasing a new brand of tablets launched out of India. We are very optimistic about our participation at the show and have expanded our presence to cater to the increasing number of visitors each year."
GITEX Shopper 2012 will take place from 29 September – 6 October 2012. The show is open from 11:00am – 10:00pm from Saturday 29 September to Wednesday 3 October; from 11am – 11pm on Thursday 4 October to Saturday 6 October. For the first time ever, the event will open for longer hours on Fridays from 11:00am.
Tickets are priced at AED 30 per person and are available at the venue and online through Time Out Tickets, Ticketingco, EPPCO and ENOC petrol stations and Zoom convenience stores. Entry is free for children under the age of five.