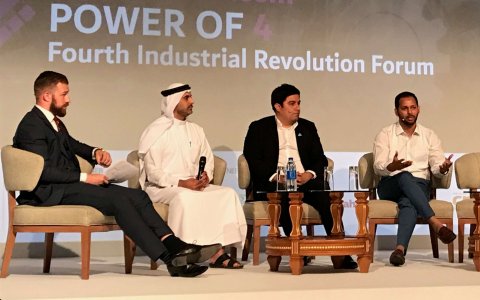 Tahawultech.com concluded Power of 4 Forum on a high note with the final panel discussion on virtual reality (VR). The half-day conference featured a number of panel discussions on key technologies driving the fourth industrial revolution.
Moderated by Tahawultech.com and CNME editor James Dartnell, the virtual reality panelists included Faisal Ali, group CIO, Gargash Group; Ramit Harisinghani, VP and head of MEA, HTC Vive and Salman Yusuf, managing director, TAKELEAP.
One of the key areas that the panel explored was VR's potential and use cases in the enterprise segment, going beyond its current deployments in the entertainment and consumer space.
Gargash Group's Ali kick started the discussion by engaging the audience to imagine different scenarios, explaining the differences between augmented reality, VR and mixed reality.
Yusuf went on to explain success stories with VR deployments. One of which included creating a VR enabled pop-up store for Ikea to help increase footfalls.
He said, "By helping customers to imagine how Ikea products will look in their homes through HTC Vive, we were able to increase the footfall by 19 percent within just two weeks of deployment. We have also worked with real-estate developers for similar deployments."
According to Harisinghani, VR will dramatically improve customer experiences when it comes to e-commerce. Currently, the biggest portion of VR use cases is largely in the gaming segment, allowing gamers to have deep immersive experiences.
"However, it also has a huge potential in the enterprise segment. VR can play a significant role in the healthcare sector, for example, improving speech and recognition abilities for autistic patients. Other examples include medical trainings, ability for patients to interact with doctors around the globe and also for doctors to be trained by senior specialists," he explained.
Will one of the side effects of VR being mainstream be people becoming anti-social?
Ali said, "From a VR perspective, this could be a side effect, however, mixed reality can solve the problem by enabling social interactions."
Yusuf said, "It is quite early to say whether it has any long term consequences, however, VR technology is definitely here to stay and we will see deeper and more engaging use cases in the future."