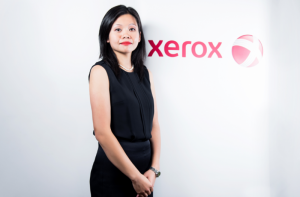 Having partnered with GITEX Technology Week 2017 as the 'Digital Business Consultant Partner', Xerox will launch 29 ConnectKey devices on the first day of the trade show. The launch of the 29 Workplace Assistants and Multifunction Devices (MFDs) at the Sheikh Maktoum Halls on Sunday marks the latest leg of Xerox' "Future of Work: Global Tour", which stops at 16 countries around the world.
"This is a historic time for Xerox since it is not only the biggest product launch in the history of the brand but it is also the first time for Xerox to enter such a high-level collaboration with the GITEX show organisers. We are looking forward to networking with our customers from diverse verticals and showcasing our latest innovations that promise to change the way work is done. A game changing event like GITEX where visionaries and tech pioneers get together is the perfect arena to launch our new ConnectKey technology-enabled VersaLink and AltaLink products," said Pui-Chi Li, head, marketing, Xerox Middle East and Africa.
On the launch day, Xerox will also be holding the 'Future of Work' conference that will be attended by top customers from across education, hospitality, healthcare, banking and finance, oil and gas and government verticals.
"As mobile and cloud technologies are crucial to the evolution of IT environments, we strive to stay one step ahead of document technology development because innovation is always our first priority. More and more customers in the Middle East and globally are looking for solutions that are simple, secure and mobile. Xerox's ConnectKey platform delivers such solutions while enabling our customers to drive productivity and accomplish more in less time," added Li.
Customised applications enabled by ConnectKey platform will now allow any type of business to design solutions that will significantly reduce the amount of time spent on operational tasks and will allow them to focus on their real business, said the firm. Xerox VersaLink and AltaLink products turn printers and multifunction printers into "smart, connected workplace assistants".
The company said, "they are packed with secure, on-the-go capabilities, cloud connectivity, and access to productivity-boosting features and apps." All Xerox ConnectKey AltaLink products are embedded with the Xerox-McAfee technology that has an IoT approach to security, which constantly monitors and automatically protects the products against malware attacks.
At this year's show, Xerox's technology will be spread across 10 different locations at multiple halls such as government, telecom, SMB, technology and many more. Over 15 Xerox ConnectKey devices will be installed and available for visitors and exhibitors to use free of charge over the five exhibition days where they can experience capabilities such as easy translate feature.